43yrs for justice: Ireland takes UK to human rights court over Hooded Men case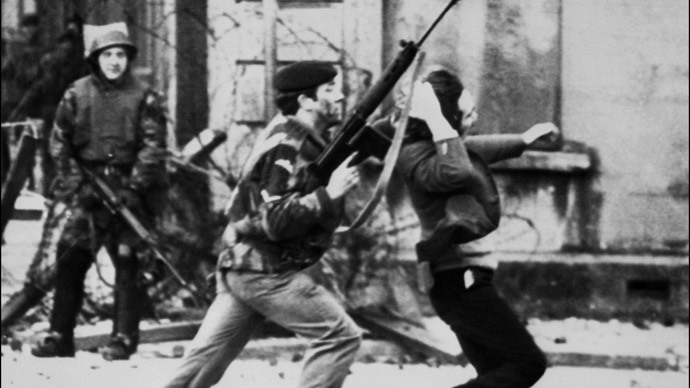 The Irish government has asked the ECHR to reexamine the 1978 verdict of the Hooded Men Case. The Northern Irishmen involved seek justice after a new set of previously classified documents point to torture by the UK government in the high-profile case.
The case in question involves torture allegations brought by 14 suspects who said they were subjected to suffering during their detention without trial in 1971 at the Ballykelly British Army Base in County Londonderry.
Liam Shannon, one of the protagonists in the Hooded Men Case, told RT's 'In the Now' that his nightmare began on August 9, 1971, when "hundreds of Catholic men" were arrested by the British Army and taken to detention centers all over Belfast, Northern Ireland, at the height of the troubles there.
From hundreds, Shannon says, 14 people were selected for "in-depth interrogation."
"That took the form of the use of five techniques. 'Wall standing' in the stress position, 'hooding', white noise, sleep deprivation, food deprivation and continued beatings," Shannon told RT host Anissa Naouai.
After the men were released, they brought a legal challenge to the European Court, which in 1978 ruled that the evidence against UK authorities did not constitute torture, but instead was 'inhuman and degrading treatment'. This judgment is now being challenged.
"We never expected that a government would torture its own citizens and that's exactly what happened," Shannon says, as he recalled his pain from his detention. "We were hooded from the word go. We were put into helicopters and told that we were hundreds of feet in the air, and thrown out just to find that we were 3 or 4 feet off the ground."
Calling it a "very frightening experience," he said 'hooding' continued for seven days straight as the "hoods were never taken off except during interrogation," when he was repeatedly beaten.
"We were kept hooded, we were beaten. If we couldn't stand against the wall for any longer... and if you attempted to get off the wall you were severely beaten and put back open again," Shannon recalls.
All men in the case, Shannon says, suffered psychologically as well as physically from the confinement.
"I actually contracted Crohn's disease afterwards when I was released from prison, which left me very, very ill for quite some time and left me having to take strong medication for a long time. We also all have sleepless nights, nightmares, cold sweats… everything else that goes along with it."
A statement by the Irish Foreign Minister Charles Flanagan on Tuesday announced the request by Dublin for the European court to revise its judgment. He said that the government had taken seriously the material in the RTÉ documentary 'The Torture Files' in June this year.
"On the basis of the new material uncovered, it will be contended that the ill-treatment suffered by the Hooded Men should be recognized as torture," Flanagan said.
#Ireland to revive torture bid against the #UK over 14 "Hooded Men" case. Tweet us your take! pic.twitter.com/PrmWHov03J

— IN THE NOW (@INTHENOWRT) December 3, 2014
Amnesty International welcomed the decision.
"Ireland is to be commended for playing its role in ensuring the UK is finally held responsible for what it did to these men in those interrogation rooms 43 years ago. We hope the UK government now announces without further delay the establishment of an independent investigation into what was revealed in the RTE program," Patrick Corrigan, Amnesty's Northern Ireland program director said.
RT's 'In the Now' managed to get a hold of Paul O'Conner from the Pat Finucane Centre (PFC), a human rights advocacy and lobbying entity in Northern Ireland which helped initiate RTE's documentary.
He told RT that PFC's research in the British National Archives in London led to "literally thousands of documents" that prove UK government was complicit in torturing the hooded men.
"These documents show that the British government has misled the court. They withheld evidence, they withheld witnesses. They have lied to the court. And with that evidence, we went to Irish State television," O'Conner said.
Now as victims await the torture recognition verdict, Shannon says all they want is justice.
"It will make a massive difference. It will be some justification for all the years and it will be some benefit psychologically for us. We have to remember that three of our number have since died premature deaths. Their loved ones, their families – it will make a massive difference to them, because they know what happened to their loved ones. Their loved ones were tortured to death," Shannon told RT.
At the same time O'Conner stressed that torture conclusion by the ECHR will change a number of things. First of all, he says it will prompt a police investigation into the allegations of torture.
"That has not happened and yet we know from the documents which have emerged that senior government ministers were named as having ordered the torture, namely Lord Carrington, then Secretary of State for Defence , in the 1970s," O'Conner told Naouai.
And most importantly, O'Conner claims the 1978 verdict will cease to be used as a precedent to justify the torture of own citizens.
"This very case has been quoted by the Israeli supreme court in cases involving torture of Palestinians. And in the infamous torture memos that were provided to George Bush in the lead up to Iraq War, the memos which led to the establishing of the Guantanamo Bay, they quote this judgment extensively," O'Conner says.
You can share this story on social media: