UK population hits record high amid fears of aging demographic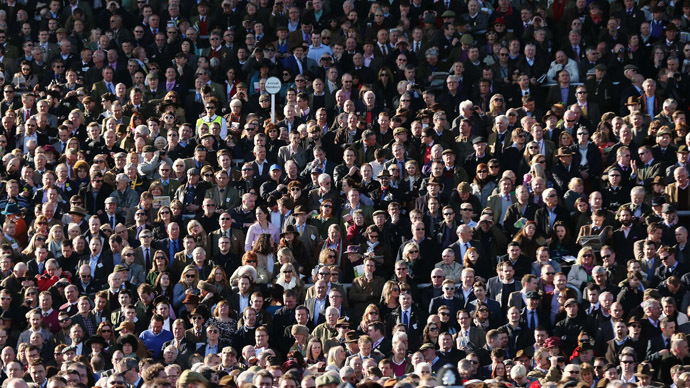 Britain's population has hit a record breaking 64.6 million after an increase of nearly half a million people during the past year, prompting fears the ever aging population will cause a skills vacuum.
Figures released by the Office for National Statistics show between mid-2013 and mid-2014 582,600 migrants arrived in the UK, while 322,900 emigrated. Net immigration therefore saw 259,700 people added to the national population.
It has risen 0.77 percent – a rate 0.02 percent higher than the average increase of 0.75 percent seen during the past decade.
READ MORE: 'Epidemic of food riots' could trigger society collapse by 2040, warn scientists
The ONS notes the UK birth rate is lower than the previous year, continuing its decline from the birth rate peak in mid-2012.
The half a million growth is composed of a 226,200 natural increase, net migration of 259,700 and 5,200 from other adjustments including relocation within the armed forces.
Over the recorded period, the median age of the country's population was 40, with a rising proportion of older people.
During 2013/14 there were more than 11.4 million people aged 65 and over – an increase of 300,000 on the previous year.
The ONS findings coincide with the release of a report from the International Longevity Centre-UK (ILC-UK) and the Chartered Institute of Professional Development (CIPD), which suggests the UK is facing a "demographic time bomb" due to the growing number of older people.
They claim 30 percent of the workforce is expected to retire by 2035, meaning the country will face severe shortages of skills and labor.
CIPD Head of Public Policy Ben Willmott suggested businesses need to reassess their employment of older people and the ways they develop their workforce.
"2035 may sound far off but the reality is that organizations need to get to grips with the ageing workforce challenge today or face skills shortages that will affect their ability to grow or deliver key services in the very near future. The findings in this report suggest too many employers are sleep-walking towards a significant skills problem that risks derailing their business strategy if not addressed."
The report suggests industries most at risk are health, social work, education and public administration, where a third of workers are currently over the age of 50.
READ MORE: World's refugee population hits all-time high of 60mn, half of them children – UN
CIPD also notes construction, transport and manufacturing will be hit badly by the aging population.
"Not enough organizations are thinking strategically about workforce planning or even know enough about the make-up of their workforce," Willmott added.
"Employers need to recognize the value that older workers can bring to their organization when recruiting new staff, continue to invest in people's training and development at different stages of their careers and think about how they can transfer older workers' knowledge to other parts of the business when they do retire.
"In addition it is increasingly in employers' interests to think about how they can support the health and wellbeing of their staff and provide more flexible working opportunities to allow older workers to downshift and benefit from more gradual transitions into retirement if that is what they want."