'War crimes': Palestinian rights activists demand ex-IDF chief's arrest during London visit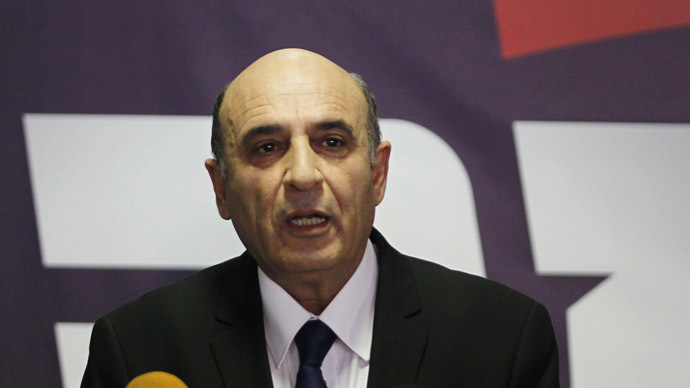 Human rights campaigners called upon UK authorities to arrest Israeli ex-Defense Minister Shaul Mofaz, who spoke at a conference in London on Monday. They accuse him of presiding over war crimes during the Second Palestinian Intifada.
Gaza-based NGO the Palestinian Centre for Human Rights (PCHR) called upon Britain's Director of Public Prosecutions (DPP) Alison Saunders and Attorney General Jeremy Wright QC to take urgent steps to ensure that "immediate decisions" were made regarding the arrest of Mofaz.
READ MORE: Ex-Israeli foreign minister avoids Gaza war crimes arrest thanks to UK diplomatic immunity
The PCHR also urged Saunders and Wright to push for his prosecution, evidence permitting. The human rights group accuses the ex-IDF chief of "war crimes," which violated the Geneva Conventions Act 1957.
It warned the justice chiefs must take action before Mofaz absconded from British soil. However, the ex-IDF military chief left Britain for Israel without incident on Monday night. Israeli media reported he cut his trip short for fear of arrest.
Mofaz was in London at a conference organized by Israel lobbyist group BIOCOM and Jewish News. He had traveled from Israel to offer his thoughts on UK-Israeli relations. The ex-IDF chief was joined by a slew of senior Israeli officials, including Interior Minister Silvan Shalom and opposition leader Isaac Herzog.
READ MORE: Israeli soldiers who beat handcuffed Palestinian get suspended sentences
Mofaz was the IDF's military chief from 1998 to 2002, a period characterized by a brutal crackdown on the Palestinian Second Intifada (Al-Aqsa Intifada). This period of intensified Israeli-Palestinian conflict kicked off in September 2000, after ex-Israeli Prime Minister Ariel Sharon visited Temple Mount – one of the most significant ancient religious sites in the Old City of Jerusalem.
The visit was interpreted by Palestinians, living under Israeli occupation, as hugely provocative. Israeli officials claimed, however, the Second Palestinian Intifada was planned by then-Palestinian leader Yasser Arafat due to the collapse of peace negotiations.
The bloody uprising was characterized by enormous human suffering and brutality, with causalities among Israeli and Palestinian civilians and combatants. Mofaz also served as Israel's Minister of Defense from November 2002 to May 2006.
READ MORE: Missile killing of 4 Gaza boys not a crime, Israel rules
In his roles as IDF chief of staff and defense minister, human rights groups worldwide accuse Mofaz of presiding over grave human rights violations against Palestinians civilians – including willful torture, assassinations, various policies of mass punishment and home demolitions.
The British government had refused to offer Mofaz immunity from arrest after he landed in London on Saturday night, senior Israeli officials said. He spoke with Israel's Ministry of Justice (MoJ) prior to visiting London to inquire about potential risks during his trip.
Mofaz asked if he could obtain immunity from possible prosecution. Although Israel's MoJ and London-based embassy broached the British government on this front, the proposal was rejected by Westminster.
British authorities said Mofaz did not hold a formal position in Israel. They said this meant his visit could not be defined as a "diplomatic mission" – a requirement necessary for immunity to be offered.
British law was reformed several years ago making it much more difficult to arrest foreign officials accused of committing war crimes outside of the UK. Following this legislative shift, such a warrant requires the backing of Britain's attorney general.
In a bid to represent what it described as "Gazan victims of alleged war crimes," PCHR sent a body of evidence on Mofaz to Britain's Crown Prosecution Service (CPS).
In its statement, the human rights group highlighted Britain's international duties "under article 146 of the Fourth Geneva Convention 1949 to 'seek out and prosecute' those suspected of committing war crimes."
Mofaz is now in Israel. No arrest warrant was issued for him by UK authorities during his trip to London.
Israeli TV: Shaul Mofaz cut short his visit to UK for fear of arrest, left London last night http://t.co/asACQU6PcD

— Ben White (@benabyad) June 23, 2015
RT asked the Crown Prosecution Service (CPS) on Tuesday if it could confirm the receipt of a body of evidence detailing allegations of war criminality against Mofaz.
The criminal prosecutor for England and Wales said the body "does not deal with enquiries relating to [a] named individual before or after a prosecution." It further stated it does not "confirm the names of suspects pre-charge."
The CPS did confirm, however, it had received an application to "consider a prosecution or to give consent for a private arrest warrant"on Monday morning under its"War Crimes/Crimes Against Humanity Guidelines."
It said the application related to an Israeli national believed to have traveled to Britain this weekend. The criminal prosecutor added the applicationreferenced the alleged violation of"Section 1 of the Geneva Act 1957 during the 2001/02 destruction of Gaza International Airport."
"After careful consideration, we have concluded that there is insufficient evidence to prosecute for the alleged offences or to consent to an application for a private arrest warrant," a CPS spokesman told RT.
"International law requires us to prove a number of elements. The evidence currently available to us does not allow us to prove these elements and to obtain the required evidence in a reasonable timescale is unlikely. If further evidence in this matter is brought to our attention we will of course consider it carefully," he said.
"The CPS is committed to the prosecution of war crimes and we take our responsibilities under international law very seriously. Whenever the evidence and law allows us to do so, we will vigorously pursue prosecutions through the UK courts."