Israeli soldiers who beat handcuffed Palestinian get suspended sentences
The IDF soldiers implicated in beating and shouting obscenities at a Palestinian man lying face down were reprimanded and handed suspended sentences of a month each. The family of the man by the IDF is yet to hear anything about his health or wellbeing.
The confrontation took place in the Jalazoun refugee camp near Ramallah, in the West Bank. The camps are a site of regular visits by Israeli Defense Forces (IDF) soldiers, camp officials say.
The IDF soldiers allege they were being attacked and had stones thrown at them by the camp's inhabitants, who numbered about 70 and staged a violent demonstration lasting "several hours," as cited by AFP. The man who was beaten was said to have grabbed at one of the soldiers' rifles, leading to the beating.
The video also shows the man, wearing a cap, trying to provoke one IDF soldier. Repeated attempts to stand down are ignored by him, as well as the swarm of press photographers continuing to follow the soldiers.
Israeli media also allege there were stone throwers, one of whom hit an IDF commander in the eye, leading him to be hospitalized. This is what allegedly led to the confrontation during which Israeli soldiers could be heard shouting, "Get the cameramen out of here."
The man would not let up and continued to taunt the soldiers, one in particular. This was followed by him being held first in a lock, then wrestled to the ground, where one boot can be seen hitting him in the back, while another knee hit him square in the head, as the rest piled on.
"We haven't heard from Shadi since he was arrested, we don't know what state he's in," the man's neighbor and relative, Mahmoud Al Ghoubashi, told RT. "The soldiers struck him on his head and back with their rifle butts and then pushed him to the ground and kicked him. He suffered facial injuries when he fell down," he added of the incident, which took place Friday evening.
"Then, we don't know what happened next."
Another neighbor, Murad Hussain, said that "Shadi was on his way to Friday prayers before coming home, and was stopped at a checkpoint next to the school. The occupying forces often block roads – especially on Fridays – and stop people from getting to their homes."
"When confrontations break out, they use tear gas, so we have to shut our windows and stay inside, and keep our children safe," he said.
An explanation emerged from the IDF after unit commander Colonel Asher Ben Lulu conducted an investigation. He claimed the arrest was justified, but admitted that the "manner… was incompatible with IDF values and the behavior expected of IDF soldiers," The Times of Israel reported him as saying. As a result, four soldiers were on trial for the incident: the commander received a verbal reprimand, while the officer shouting curses got 30 days confinement to base. Two of the other soldiers involved have received suspended sentences of 28 days at an army prison for using disproportionate force.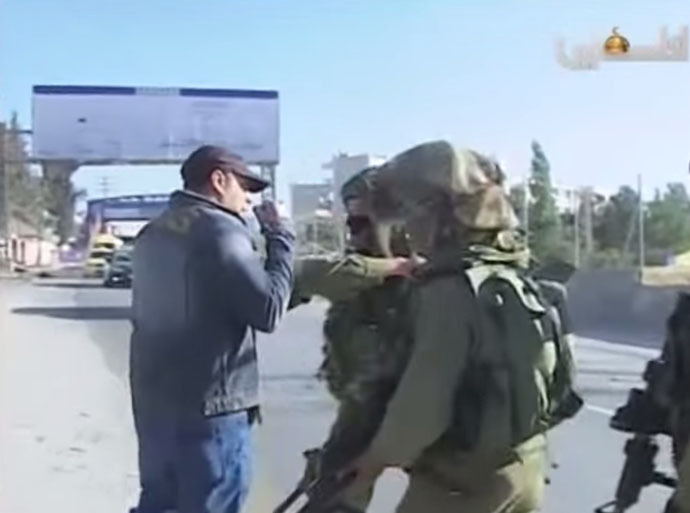 Meanwhile, a new UN report is under way, containing what many anticipate will be new details on Israel's human rights violations in the Gaza war last year. Previous reports have alleged numerous transgressions by IDF police against ordinary Palestinians, often involving unlawful detentions, provocations and physical violence – not to mention a pronounced lack of involvement in protecting Palestinians under their watch from Israelis seeking to inflict violence on them.
Earlier in June, one man was crushed by an IDF vehicle, presumably because he threw a petrol bomb at the vehicle, causing it to swerve and hit him. Eyewitness accounts, however, said the Israeli vehicle had run him over intentionally, then left him to die under the car.
A video had also emerged of the Israeli border guard punching and kicking a whole family, an elderly grandfather included, after the IDF arrived to demolish buildings in the area for Israel's disputed settlement-building program.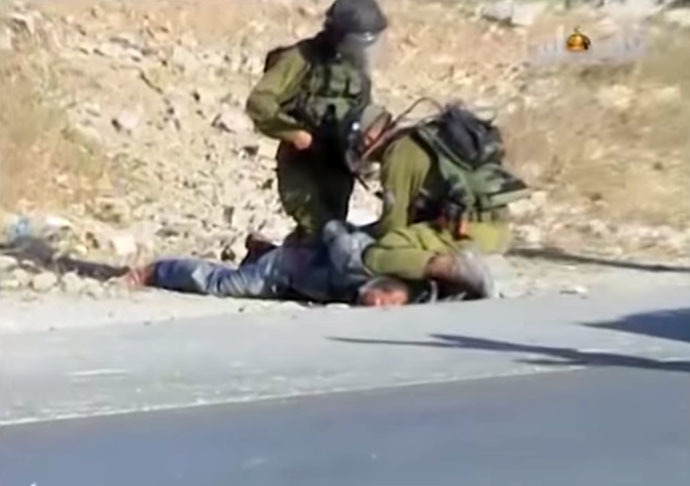 The Israeli military often puts the blame on the Palestinians when it is accused of violence against civilians and human rights abuses, says Mahmoud Mubarak, who is head of the Popular Committee at Al Jalazoun camp.
"Whenever the Israelis attack and injure or kill Palestinians, they call it self-defense and say they were provoked," he says. "But it's not true. They're guilty of crimes against our people. They storm the refugee camp twice every week and attack people in their homes.
The latest incident comes as Israel has denied the UN human rights envoy Makarim Wibisono entry into Gaza for the second straight year, claiming it cooperates only with those probes or commissions whose mandate isn't "anti-Israeli."
You can share this story on social media: