​Ex-Israeli foreign minister avoids Gaza war crimes arrest thanks to UK diplomatic immunity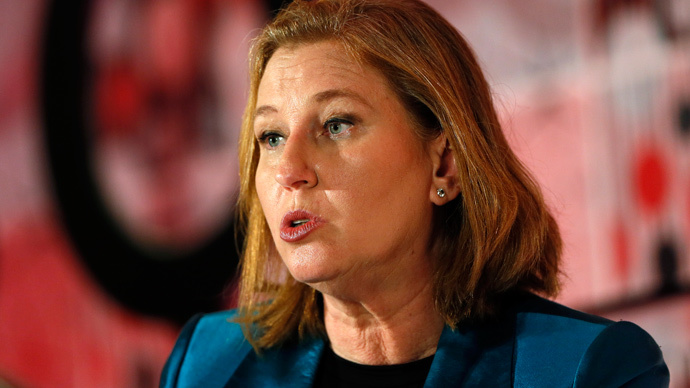 Former Israeli foreign minister Tzipi Livni was granted diplomatic immunity by the British government during a visit to the UK this week to avoid possible arrest over alleged war crimes.
The Zionist Union politician was attending the Fortune Most Powerful Women International Summit in London, where she spoke on the Israeli political climate and the future of Israel and Palestine.
Livni was able to qualify for legal immunity by arranging meetings with British officials, exploiting a legal loophole that protects Israelis on official visits to the UK.
She has had to use the loophole since pro-Palestine activists successfully petitioned a British court to issue an arrest warrant in her name ahead of a visit in December 2009.
As Israeli Foreign Minister during the 2008-09 Gaza War, Livni was involved in the decision to take military action in response to rocket fire coming from the Gaza Strip. The rocket fire itself was in response to a November 4, 2008 incident, when IDF soldiers killed several Hamas fighters in a military incursion.
Livni told reporters at the time: "We have proven to Hamas that we have changed the equation. Israel is not a country upon which you fire missiles and it does not respond. It is a country that when you fire on its citizens it responds by going wild – and this is a good thing."
The farce that is justice made in the West: wanted for war-crimes, Israeli official, Tzipi Livni is given diplomatic immunity in the U.K.

—  NJ (@iNjoroge_) June 15, 2015
A UN investigation found Israel had used excessive force which unfairly impacted on civilians, as well as using Palestinians as human shields by forcing them to enter houses which might be booby trapped.
Some 926 Palestinian civilians were killed in the conflict, according to the Palestinian Centre for Human Rights.
The report concluded Israel had violated articles of the Fourth Geneva Convention and the International Covenant on Civil and Political Rights. Palestine supporters hold Livni accountable for these war crimes.
Livni, a member of the Israeli parliament, the Knesset, abandoned her trip to the UK in 2009. Then-Foreign Secretary David Miliband subsequently issued Livni a personal apology.
The British government is theoretically able to prosecute Livni on suspicion of war crimes.
By using "universal jurisdiction," UK law permits British courts to cover serious offenses such as war crimes, torture and hostage-taking, regardless of where they were committed.
READ MORE: Israeli soldiers who beat handcuffed Palestinian get suspended sentences
READ MORE: Missile killing of 4 Gaza boys not a crime, Israel rules
READ MORE: 'Outrageous': Saudi diplomat who kept workers in 'slavery' immune from law
However, the British government amended the law in September 2011 to avoid further diplomatic incidents.
Parliament changed the legislation so that the head of public prosecutions must give approval to a request for arrest warrants under universal jurisdiction.
The UK government has also granted automatic immunity to all Israelis on official visits to Britain, according to the Times of Israel.
As a result, British courts rejected a request for a new arrest warrant against Livni ahead of this week's visit.
The Zionist Union member exploited the legal loophole to attend the Fortune Most Powerful Women International Summit, according to the Hebrew-language daily newspaper Yedioth Ahronoth.
During her London visit, she met with Foreign Office minister Tobias Ellwood MP to present a copy of Israel's 275-page report on Operation Protective Edge, last summer's deadly assault by the Israeli Defence Force (IDF) against Gaza.
The report places blame for the war's casualties on Hamas in Gaza and declares Israel's attack to be "lawful" and "legitimate."
More than 2,000 Palestinians died in the conflict, the majority of them civilians. Some 73 Israelis were killed, all but six of whom were soldiers.
Livni told Ellwood: "It is important that the British government have an accurate picture of the factual, ethical, and legal reality, because the UN report is expected to be so twisted and anti-Israel."
During her visit, a BBC Newsnight interviewer challenged Livni over her parents' involvement in Irgun, a paramilitary organization that used violence against the British in its struggle for an independent Israel. Livni was asked if she would describe her parents as terrorists.
The former Israeli foreign minister denied there was any comparison between Hamas and Irgun.
She told BBC journalist Evan Davis: "There is a huge difference between those fighting an army, the British Army, and between all those terrorist organizations in our region that are looking for civilians to kill."
You can share this story on social media: