France arrests 100 British migrant smugglers in Calais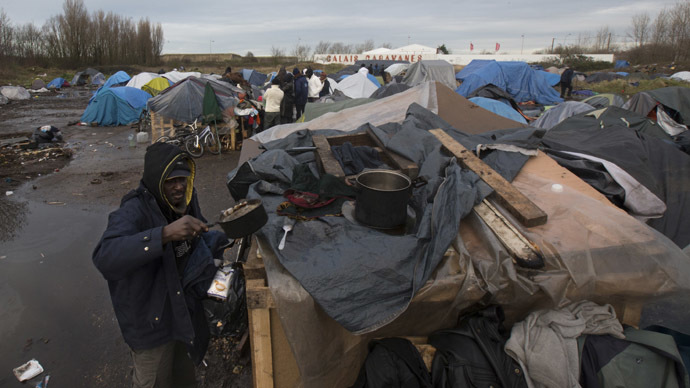 An estimated 100 Brits have been jailed in the port town of Calais, France, for attempting to smuggle migrants across the channel into England during the past year, local prosecutors have claimed.
The rise in prosecutions means UK citizens make up 25 percent of smugglers brought before the Calais court, second only to smugglers from Eastern Europe.
Their arrests come as rights groups and aid workers warn of a "catastrophic" situation in the Calais migrant camp, where numbers have risen from 1,000 to 3,000 in April.
Discontent among migrants in the camp is rife. On Tuesday morning settlers at Calais blocked the motorway with burning tires, causing road and channel tunnel services severe delayed.
READ MORE: French govt to equip Calais shanty town with toilets, electricity, water
The revelations were made in a BBC documentary, "Ticket to Hide," which will be broadcast on Radio 4 on Tuesday.
Calais court's Deputy Prosecutor Julie Colaert told the program she saw up to ten British smugglers prosecuted each month for promising migrants a "guaranteed passage" to the UK.
"In the last two years, we have seen more and more English smugglers."
"Trafficking gangs are employing them to take people across in their own cars. The migrants pay a lot of money because it's sold as guaranteed passage to the UK," she added.
The program also revealed that car and van drivers, as opposed to heavy truck drivers, were being recruited by smuggling groups as they were perceived to be less likely to be searched by police at the port.
The BBC detailed the most recent case of Basir Haji, from Preston in Lancashire, who was sentenced to 12 months in prison after he was caught at Calais with two Iraqi men in the boot of his car.
He was prosecuted after admitting he had agreed to transport the men to England for £500 (US$789) each. Haji was convicted of trying to facilitate the entrance of foreign citizens in circumstances incompatible with human dignity.
He told the BBC he had been forced into smuggling due to mounting debts.
READ MORE: Britain to scrap Royal Navy rescue operations as Mediterranean migrant crisis escalates
"I'm in debt. That's why I did it. I've been playing a lot of money in the casino," he said.
The Iraqi men in his car were reported to have told police their families had paid £4,500 to ensure their transportation to the UK.
Charities and aid workers says the migrant crisis in Calais will get worse, and predict more than 2,000 more will arrive during the summer months.
The fire which was started on Tuesday morning is symptomatic of growing violence in the camp, which has seen truck drivers threatened and the deaths of at least 15 migrants over the past year.