​French govt to equip Calais shanty town with toilets, electricity, water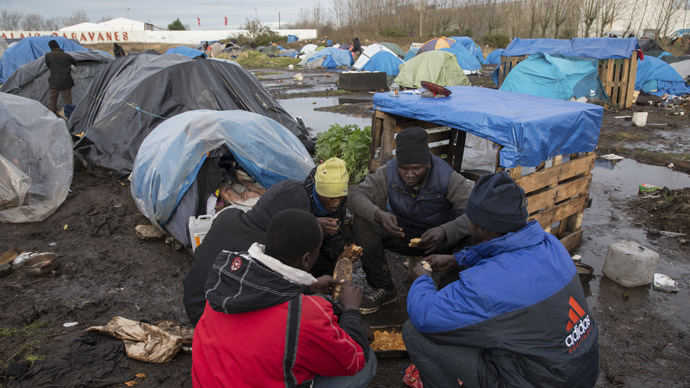 A shanty town near the port of Calais will finally be equipped with electricity, water, toilets and pre-fabricated huts by the French government. The site is inhabited by migrants desperately seeking to enter Britain.
The shanty town, known as the "New Jungle," is located on a 40-acre stretch of wasteland and dunes three miles north of Calais, near the Channel port. Those living there are currently housed in tents and makeshift huts.
"There are nearly 3,000 people living in an unacceptable and unhealthy way on this wasteland…We have to take steps to improve their conditions," French Housing Minister Sylvia Pinel was quoted as saying by The Independent.
READ MORE: Britain to scrap Royal Navy rescue operations as Mediterranean migrant crisis escalates
The French government has authorized Calais to spend €500,000 (US$567,000) on the project. That money will go toward running water, street lighting, public toilets, and pre-fabricated huts. Aid workers will also be employed at the site.
Once completed, the site will be the first officially authorized and equipped campsite for male asylum seekers in the Calais area since a Red Cross camp was closed in 2002. A shelter for migrant women and children opened in March.
The move is a response to criticism from the United Nations and aid groups who recently described the New Jungle as an "intolerable humanitarian scandal."
The number of migrants at the site has continued to grow over the past year. The increase in numbers comes after French police cleared other camps in the country and directed people to the New Jungle.
L'Auberge des Migrants, a group that helps asylum seekers, accused authorities last month of creating a "government-sanctioned slum" without water, toilets or lighting.
READ MORE: Paris orders closure of illegal migrants camp in northern suburb fearing disease & epidemic
The number of migrants in Calais has jumped from 2,000 to approximately 3,000 since the start of the year. Over the weekend, aid workers warned that food and blankets were running extremely low.
Most of the migrants are from Syria, Eritrea, Ethiopia, and Afghanistan. Many are children, some of whom are unaccompanied.
The government's efforts are part of a plan to create 10,500 more permanent shelters for asylum seekers in other parts of France. The new spots will reportedly be available to migrants in Calais, Paris and those on the France-Italy border.
Attempting the crossing
Migrants anxious to enter Britain try their luck at the Channel port, hopping onto trucks bound for Dover, on the south coast of England.
The numbers are rising as more and more desperate migrants attempt to climb on board the trucks, even in broad daylight. Some are also using bolder, more desperate tactics.
This has resulted in many trucks avoiding the crossing, which could eventually disrupt the supply chain between the UK and Europe, Donald Armour of the UK's Freight Transport Association told the Dover Express.
"The UK government really must insist on greater proactive involvement by the responsible French authorities," Armour said, adding that "we don't believe that truck drivers should be made to act as unpaid immigration officers."
Frustrated locals
The migrant situation has left local residents frustrated on both sides of the channel.
On Monday, The Daily Express reported that a farmer with land 125 miles from Dover had found hundreds of migrants hiding in his fields.
In the past month, Chris Gadsen has caught 38 Somalis, six Afghans, and six Vietnamese migrants on his property.
"It feels like the authorities have lost control of the situation in Calais – and now they're in danger of the same thing happening hundreds of miles away," Gadsen said.
And although the French government is now making efforts for improvement, tensions between local residents and migrants remain high.
READ MORE: France to probe brutal video of police abusing migrants in Calais
Members of the far-right group Sauvons Calais (Let's Save Calais) demonstrated in the town on Saturday, carrying banners which read: "Calais, a clean town dirtied by immigration."
It was met by a counter-demonstration from migrants and residents who assist asylum seekers.
Over the weekend, Calais police confirmed they were searching for a group of men who had attacked several migrants and beaten them with iron bars.
However, investigators are unsure whether the attackers were local residents or "people traffickers" seeking revenge on migrants.
Meanwhile, tensions between competing migrant groups have also hit boiling point. Fights have broken out in the New Jungle, and scuffles have taken place near the ferry port.
Conflict between France & Britain
The Calais migrant crisis has been an ongoing source of bitterness between the French and British governments, which each side blaming the other for not doing enough.
In March, Calais Mayor Natacha Bouchart said the town was forced to deal with migrants because Britain "has not adopted the EU rules contained in the Schengen agreement," which removed internal border controls across EU member states.
READ MORE: RT explores Paris's migrant tent underworld
"We are suffering the consequences of the British government's actions, which takes from Europe the things that suit it, but doesn't want to get fully involved in the European project," Bouchart said, as quoted by The Telegraph.
But Britain says the problems are purely French, as the migrants are on French – not British – soil. Many claim France is making the situation worse by building and improving facilities for illegal migrants.
"The mayor of Calais does not seem to realize that the problems are French, and they should be dealing with it. She needs to get a grip," Tory politician Peter Bone said at the time, as quoted by Mail Online.
Britain set up UK border controls in France 15 years ago, in an effort to prevent illegal immigrants from reaching the country to claim asylum. It has objected to any Calais development which could be considered a "magnet" for migrants looking to cross into the UK illegally.
Just last month, the EU rejected Britain's claims that its new plan to deal with migrants crossing the Mediterranean would put more lives at risk, stating that taking no action was more dangerous.
You can share this story on social media: