Britain to scrap Royal Navy rescue operations as Mediterranean migrant crisis escalates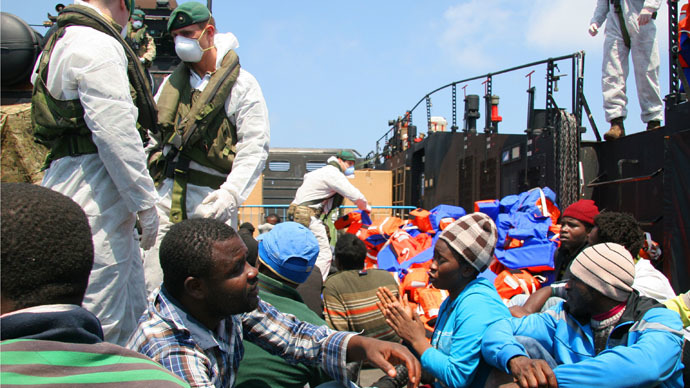 As EU ministers discuss the world's most serious refugee crisis since World War II, the British government is set to withdraw its Royal Navy flagship from its role in rescuing thousands of migrants desperately trying to cross the Mediterranean.
HMS Bulwark is due to be withdrawn from European search and rescue operations by early July.
Experts say the number of migrants travelling across the Mediterranean in small boats from troubled North African and Middle Eastern states currently stands at a summer high.
When we could be leading a humane response, the UK could withdraw from migrant rescue mission in Med - http://t.co/HJrANr6qI3 … #RefugeeWeek

— ChangingEverythingUK (@TCEuk) June 16, 2015
As these migrants continue to risk their lives in hope of a better future, the UN warns the resulting refugee crisis is the most serious the world has seen since 1945. Nevertheless, the British government's contribution to addressing the situation remains muted.
In an official statement, Britain's Ministry of Defence (MoD) said HMS Bulwark's participation in the search and rescue operations was agreed upon for an initial 60-day period.
The Royal Navy vessel first embarked on these rescue operations in early May.
But with its date of withdrawal drawing ever-closer, the government is yet to clarify whether the ship will continue to partake in cross-border efforts to keep migrants crossing the Mediterranean safe.
Probed on HMS Bulwark's future role in tackling the migrant crisis, an MoD spokeswoman told the Guardian "no definitive date has been set for its withdrawal."
The spokeswoman stressed, however, that "all options are being considered."
Migrants threaten to throw themselves into the sea if they are not allowed into France http://t.co/tWHwx4Pxmipic.twitter.com/DfHv1hiOKz

— Daily Mail Online (@MailOnline) June 16, 2015
Since it first joined search and rescue operations, Prime Minister David Cameron has repeatedly emphasized HMS Bulwark's role in abating the migrant crisis. The temporary use of the Royal Navy ship was announced by the PM in late April at an EU summit convened on the escalating situation.
However, the government's efforts to tackle the refugee crisis have been sorely lacking overall.
The British government has flatly refused to partake in proposed EU schemes to relocate 40,000 asylum seekers who managed to make it across the Mediterranean safely.
It has also refused to resettle some 20,000 refugees in the Middle East and North Africa, in dire need of international protection.
Emergency talks to tackle the migrant crisis took on a heated tone on Tuesday, as Italy demanded more assistance from other EU member states.
Arriving in Luxembourg for negotiations with Home Secretary Theresa May and a slew of other EU ministers, Italian minister Angelino Alfano called for an "equal distribution of migrants" across the continent.
Alfano's call comes as Italian Prime Minister Matteo Renzi says he will give thousands of migrants, who are currently based in Italy, the necessary travel documents to travel across Europe.
Italian police forcibly remove hundreds of migrants stranded at French border http://t.co/APeGyzlrkCpic.twitter.com/7PMmR8dKae

— ѕyndιcalιѕт (@syndicalisms) June 16, 2015
The Brussels-based European Commission (EC) previously suggested redistributing roughly 60,000 Eritrean and Syrian asylum seekers from Italy and Greece to other EU member states. But the plan has been rejected by multiple countries along Europe's borderless Schengen zone, which includes a total of 26 states.
Britain has also failed to signal backing for the proposal, indicating that it will use an opt-out to avoid taking part.
The British government's rejection of the EC's plan to evenly distribute migrants across Europe comes as Save the Children ramps up pressure on Westminster to open Britain's borders to refugees in crisis.
The charity is calling on UK ministers to take in an estimated 1,500 children who fled their homelands unaccompanied by an adult.
Your incredible support, and the amazing #HMSBulwark crew, helped #RestartTheRescue > http://t.co/oobs4AhDkZpic.twitter.com/jdEbRqmmkN

— Save the Children UK (@savechildrenuk) June 16, 2015
Arriving at Tuesday's talks in Luxembourg, Home Secretary Theresa May acknowledged flows of migrants attempting to make their way to Europe have reached crisis levels.
"First of all, obviously, lives are being put at risk but secondly, as we see in Calais and elsewhere, it's putting great pressure on European towns and cities which is even reaching to our borders, although we are not part of the borderless Schengen area," she said.
May said the key to solving the crisis was to target "criminal gangs" that are "plying a terrible, callous trade in human lives" by trafficking migrants across the Mediterranean.
The Home Secretary also insisted it's essential to stop migrants from reaching European soil.
"That means returning people to North Africa or elsewhere, or to their home countries; so that they see that there is no merit in this journey," she said.
May stressed Europe should embark on development work in crisis-ridden North African and Middle Eastern states to discourage people from risking their lives in search of a better future in Europe.
The Mediterranean migrant crisis: our history shows we can & should take in more refugees argues @IPPR_NickPhttp://t.co/LZqQHApGP8

— Jonathan Portes (@jdportes) June 16, 2015
British Refugee Council chief, Maurice Wren, said the outcome of Tuesday's talks in Luxembourg could mean life or death for some of the most vulnerable and desperate refugees in the world.
"They [EU ministers] cannot close their eyes to the death, destruction and displacement gripping the world and pretend it's not our problem," he told the Guardian.
"History will be a cruel judge if our response to the humanitarian crisis unfolding in the Mediterranean is to expect people to stay put while blocking up their escape routes and denying them other paths to safety."
Wren insisted British and EU ministers most crucial priority should be saving lives and protecting those who desperately need it.