​Stowaway falls to death in London after plane wheel ride from S. Africa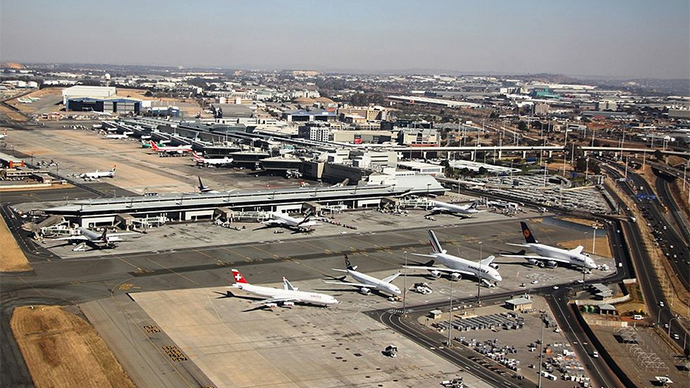 A man was found dead after likely plunging from the undercarriage of a plane traveling from Johannesburg to London Heathrow. Another stowaway was found on the same flight, and remains in critical condition.
The body was found on Friday morning on the roof of an internet company headquarters in Richmond, in West London, below the flight path of a British Airways plane arriving from the South African capital. The 9,000 kilometer (5600 mile) flight from Johannesburg to London takes 11 hours.
READ MORE: Runway runaway: teen flees orphanage, stows away in landing gear bay
A second man was located on the same flight after the aircraft landed. UK police say they know the identity of the 24-year-old survivor, but are awaiting confirmation from South African authorities. Police said that there was "no evidence" linking the two men, but said they were examining their connection as "one line of enquiry."
"It's a security breach. We need to find out how and why this happened. It's very rare for this to happen in South Africa," said Colin Naidoo, a spokesman for Airports Company South Africa, which manages OR Tambo airport, from which the aircraft took off.
Just over 100 attempts to catch a flight by hiding in a plane's wheel well or undercarriage have been documented since 1945. According to the Federal Aviation Authority, three-quarters of those who try fail to complete the journey alive, particularly if situated in the wheel itself.
READ MORE: Gear death: Dead man's body spends 4 days in plane's gear bay, makes several flights
"There's the question of just where on the plane these two were. If a person was in the wheel well of a plane on an 11-hour flight there's really very little chance of surviving. You are either going to be frozen to death by temperatures of -50C or you are going to die through lack of oxygen with the plane flying at 35,000ft," David Learmount, editor of Flight International magazine told the Guardian.
The last man to attempt to enter the UK by such means died in 2012, similarly falling from a plane as it was about to land. Authorities said that the Mozambican stowaway, Jose Matada, was likely dead or nearly dead by the time he hit the ground. The last successful attempt to reach London by such means was made by a Romanian man hitching a shorter flight in 2010.
You can share this story on social media: