Gear death: Dead man's body spends 4 days in plane's gear bay, makes several flights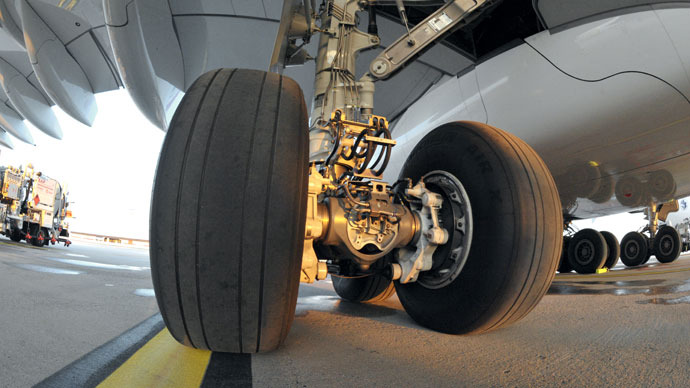 Staffers at a Moscow airport found a man's body in the landing gear bay of a plane shortly after it arrived from Italy. A preliminary investigation suggests the body was there four days, and made several flights.
The man was reportedly identified as 22-year old Georgian national Giorgio Abduladze; identifying documents were found in his pockets. Investigators believe Abduladze died from the cold temperatures at a high altitude, as he was wearing only a T-shirt and shorts.

"Apparently the man died from exposure to cold; we suspect that he was a stowaway," a spokesperson for the investigation said.

Abduladze's body was discovered on Thursday during a post-landing inspection of the right landing gear of an Airbus А-330 aircraft after a night flight from the Italian resort city of Rimini to Moscow's Vnukovo Airport.

A thorough search of the landing gear bay was ordered after droplets of blood were discovered on the machinery.

Russia's aviation regulator said it would consult with Italian authorities on how the pre-flight servicing and inspection of the plane was carried out in Rimini. The aircraft belongs to the Russian charter airline I Fly.

However, Italy says it's impossible that the man got into the plane at its airport, suggesting that he may have journeyed on the aircraft for more than one flight.

"Authorities are currently examining all the circumstances of the accident, but we are confident that the deceased man could not get on board the Russian aircraft in our airport," Rimini's Federico Fellini International Airport's director general Claudio Fiume told RIA Novosti.

To support his point, Fiume stressed that the body was found in the part of the plane only licensed staff have access to, but there is no such staff member in the Rimini airport and thus the aircraft was not checked.  

But Russia's investigation say that autopsy results showed the young man died at least four days ago. Therefore it can't be ruled out that Giorgio Abduladze got on the plane in a third country as the aircraft was completing a charter flight to different countries in the past few days. 
Cases when people try to escape flight check-in procedures have not been that rare in recent years. With freezing temperatures as low as -55C and scarce oxygen in the high-altitude air, such trips are grueling, often deadly, ordeals for stowaways.

In 2012 a dead man in his mid-twenties was found in west London after he fell from a Heathrow-bound flight from Angola. Later, he was identified as a Mozambican trying to illegally get to England for better life.

In 2010, a teenage boy traveled 300km in a plane's landing gear after escaping an orphanage in eastern Siberia. He was exhausted by the journey, and was taken to hospital upon arrival.

In 2009 the similar case happened in Russia's Far East.  Filipp Yurchenko, 19, curled up in the wheel well of an A320 plane operated by Vladivostok Avia and was believed to have died from lack of oxygen and freezing temperatures. Also that year Atlanta International Airport staffers found a stowaway's body in a plane operated by Delta Air Lines that had arrived from Africa.

In January 2007 the body of another man of African origin was found on a Delta operated plane after it landed at Atlanta's Hartsfield-Jackson Airport from Senegal. It was later found that the stowaway had been killed by the wheels of the plane.

You can share this story on social media: