Muslims must not 'quietly condone' ISIS – Cameron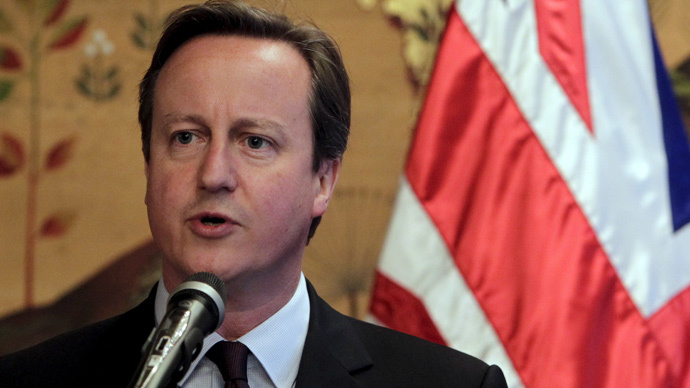 Islamic communities in the UK should take more responsibility for tackling the threat of radicalization and consider the danger of those who "quietly condone" extremist ideologies, David Cameron will say.
The prime minister is expected to implore families to help appeal to young Muslims who are at risk of being radicalized.
Speaking at a security conference in Bratislava, Slovakia, Cameron will make his plea in response to the news of the death of Britain's youngest suicide bomber and fears that three British sisters have fled to Syria, along with their nine children.
"The cause is ideological," Cameron will say, according to a version of his speech released by the prime minister's office.
"It is an Islamist extremist ideology, one that says the West is bad and democracy is wrong, that women are inferior and homosexuality is evil.
READ MORE: ISIS claims deadly Yemeni capital bombing spree
"It says religious doctrine trumps the rule of law and Caliphate trumps nation state and it justifies violence in asserting itself and achieving its aims. The question is: How do people arrive at this worldview?"
The speech will further say: "I am clear that one of the reasons is that there are people who hold some of these views who don't go as far as advocating violence, but do buy into some of these prejudices, giving the extreme Islamist narrative weight and telling fellow Muslims 'you are part of this.'"
The prime minister will also warn that young people are at risk from "firebrand preachers" who operate online, and turn "simmering prejudice into murderous intent."
"We've always had angry young men and women buying into supposedly revolutionary causes. This one is evil, it is contradictory, it is futile – but it is particularly potent today."
READ MORE: Carter: US military can't find enough 'capable, motivated' Iraqis to train against ISIS
The PM will call on Muslim families to tackle the problem, acknowledging that while the security services play a role in preventing young people from traveling to Syria, the problem must be addressed at its root.
"That blame game is wrong – and it is dangerous. By accepting the finger pointing – whether it's at agencies or authorities – we are ignoring the fact that the radicalization starts with the individual and we would be in danger of overlooking many of the ways we must try to stop it at the source," he will say.
"We need to treat the causes, not just the symptoms. Of course, we will do everything we can to help the police and intelligence agencies to stop people traveling to Syria. But we mustn't miss the point: they are not responsible for the fact that people have decided they want to go."
A government source told the Press Association "of course government has a part to play but so do communities and so do families, too."
The source said: "Clearly there are lots of Muslims in the UK that play a vital role in our country. But here he is saying that in some communities there may be individuals who are condoning this."
"[The prime minister's] point is we need to have a frank debate about the role that everyone has to play. Government definitely has a part to play but so do others."