ISIS claims deadly Yemeni capital bombing spree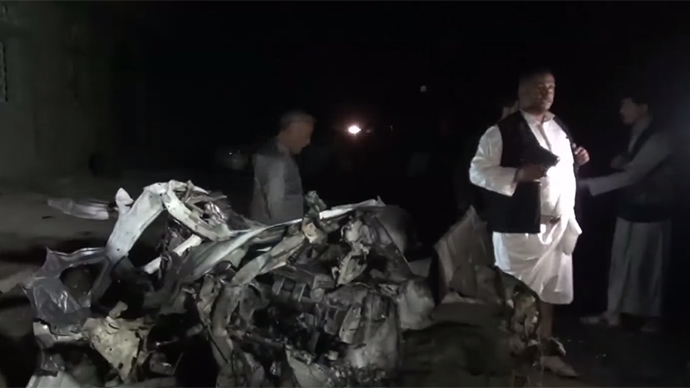 Some 50 people have been either killed or injured in Yemen's capital Sanaa after five car bombs went off near Shia mosques and the headquarters of the Houthi rebels. Islamic State has claimed responsibility, calling the attack a "revenge."
The explosions targeted three Sanaa mosques, the Hashush mosque, the Kibsi mosque, and the al-Qubah al-Khadra mosque, as well as the headquarters of the Ansarullah movement of the Houthis, Reuters reported.

The fifth explosion took place at the Al-Tayssir mosque, AFP added, saying that the blasts went off simultaneously. The agency said that the bomb which struck the Hashush mosque also hit the house of a Houthi leader Taha al-Mutawakel.
Islamic State (IS, formerly ISIS) militants claimed responsibility for the attack, saying that it was a "revenge for the Muslims" against "the Houthi apostates." IS supporters also reportedly exchanged celebratory messages on social media. The extremist Sunni Muslim group views Shia Houthis as heretics.
READ MORE: ISIS declares war on Shias on Arabian Peninsula – monitoring group
"The explosion was so loud I thought it was caused by an air strike," an elderly man named Ali told Reuters, "I returned and found cars burning, people screaming and wounded people all over."

The bombs were planted near the entrances to holy sites and detonated as worshippers arrived for prayers, witnesses told AFP.

There are conflicting reports as to the number of casualties. AFP put the number killed at 31, adding that dozens were injured in the blasts, while Reuters cited local officials as saying that 50 people were either killed or injured.

IS extremists, who control or operate in large parts of Iraq and Syria, have launched a massive PR campaign posting videos of hostage executions and other propaganda stunts online. They often appeal to the religious feelings of Muslims, discords between the sects of Islam, as well as to outrage caused by Western interventions in the Middle East.
You can share this story on social media: