£3.2bn fighter pilot training scheme 6 years behind schedule – watchdog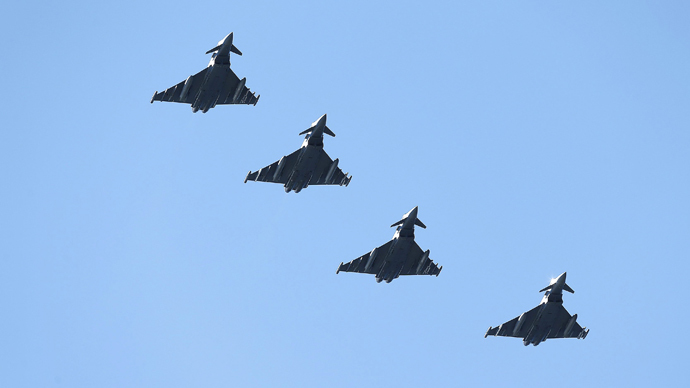 A multi-billion pound Typhoon fighter jet training scheme, which was outsourced to a private consortium, is six years behind schedule, according to the National Audit Office (NAO).
Auditors say if the scheme is not brought up to speed it could leave the UK without properly trained aircrews.
The Ascent contract, designed to be fulfilled by a consortium composed of defense firms Babcock International and Lockheed Martin, was intended to be running at full capacity by 2014.
The NAO expects it will not be hitting its goals until 2019 at the current rate of progress.
READ MORE: UK military jets risk mid-air crash with airliner due to lack of safety systems – report
The scheme is for training pilots and crew to operate the Royal Navy's Hellcat helicopters, the British Army's Apache attack helicopters and the Royal Air Force's Typhoon fighter jets.
NAO head Amyas Morse said: "Implementing the new flying training has been challenging.
"There have been changes to the scope of the new system, its budget and the approach to financing. The legacy of this has understandably taken the MOD time to resolve and has resulted in lengthy delays."
Morse said some improvement had been made but "there is much to do if the Department is to achieve the planned benefits of its new approach.
"The Department needs to understand better actual training performance and what affects performance before it can secure significant improvements from Ascent.
"Otherwise, there is a real risk that moving to the new training will affect the military's ability to train the right number of aircrew at the right time," Morse added.
Besides personnel issues, the UK's Typhoon jets have been plagued with technical problems.
In January, it was revealed the RAF's Typhoon jets could be involved in a mid-air crash with passenger airliners because the fighter jets have not been fitted with a collision avoidance system.
READ MORE: Heli-flop-ter: Britain mothballs costly Apache helicopters after brief Afghan, Libyan service
An annual report from the Military Activation Authority (MMA) said a collision between a Typhoon and a commercial jet was "improbable," but would cause a "substantial" loss of life.
"Collision avoidance systems should be installed with full haste," it said.
The Ministry of Defense (MoD) said it was considering the installation of the potentially lifesaving equipment to its Typhoon fleet.
The report said a failure by the MoD to fit the aircraft with collision warning systems – ACAS – is "unsustainable."