​Argentine minister challenges Cameron over Falklands/Malvinas
Published time: 11 Jun, 2015 09:44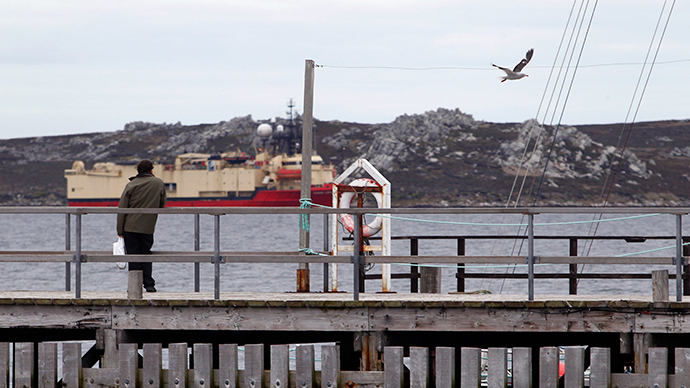 An Argentine minister has challenged Prime Minister David Cameron over the British claim on the Falkland Islands during a summit in Brussels.
Hector Timerman is reported to have challenged the PM during a dinner event.
Cameron was in Brussels ahead of key meetings with other European leaders on EU reform.
A Downing Street spokesperson said: "At the dinner, the prime minister robustly defended the Falklands and the islanders' right to self-determination in response to the Argentine Foreign Minister raising the issue.
READ MORE: UK, Argentina summon each other's ambassadors as Falklands/Malvinas row worsens
"The prime minister underlined that the islanders had expressed their view in a referendum and that should be respected.
"He went on to add that the waters around the Falklands were territorial waters and it was unacceptable of Argentina to threaten investors seeking to operate there."
In 1982, the two nations contested the islands – also known as Las Malvinas – in a short, vicious war in which 659 Argentinians, 255 British military personnel and 3 islanders died.
In a statement, the Argentine embassy called the British claim an "anachronistic colonial situation" and said possession of the South Atlantic archipelago remained "an unrelinquished objective of the Argentine people."
In April, Argentina said it was pressing ahead with its plans to sue three UK oil exploration companies operating in the region.
The litigation will center on three UK oil exploration firms: Premier Oil, Falkland Oil and Gas, and Rockhopper.
In April, the firms reported they had discovered 27.9 meters of net-oil bearing reservoir and 18.5 meters of net gas-bearing reservoir.
There has also been increased military activity around the islands.
READ MORE: Argentina sues 3 UK oil exploration firms amid Falklands/Malvinas tensions
The redeployment in March of two Chinook helicopters, withdrawn in 2006, and a pledge by Defence Secretary Michael Fallon to spend £180 million over the next 10 years on upgrading Falkland defenses, both came at a time when UK oil exploration has become a central component of the 182-year-old colonial dispute.
Tensions between the countries have waxed and waned in the three decades since Argentine forces were driven out by a British task force, but recent leaks by NSA whistleblower Edward Snowden indicate Britain has waged a secret intelligence war throughout the intervening period.
The intelligence data released by Snowden suggests Britain has spied on the Argentine authorities since at least 2009, preparing offensive cyber operations to change public opinion regarding the Falklands, according to the Intercept.