10 Irish women a day forced to seek abortions in UK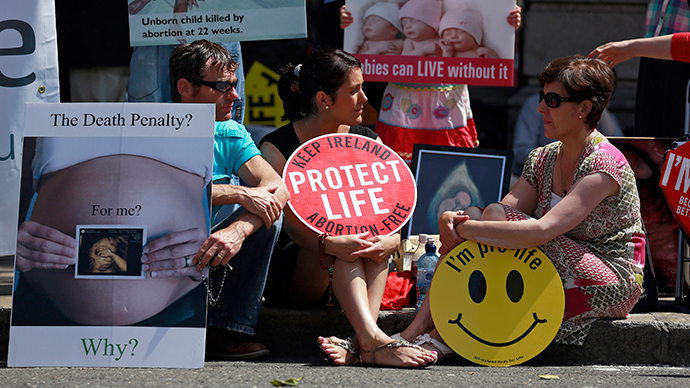 Draconian abortion laws force at least 10 Irish women and girls to travel to Britain each day to legally end their pregnancy, new figures show.
More than 3,700 women and girls traveled from the Republic of Ireland last year to terminate their pregnancies because the procedure is illegal in their home country.
A further 837 women came from Northern Ireland, where abortion is banned except in extreme circumstances.
The National Health Service (NHS), which has seen an overall drop in abortions, has also come under fire after its annual bill for negligence in pregnancy reached £1 billion.
Abortion is illegal in Ireland, even in cases of rape, severe or fatal fetal impairment or a risk to the mother's health.
New figures from the Department of Health reveal that 3,735 women and girls traveled from the Republic of Ireland to Britain for an abortion.
READ MORE: Washington urged to allow women raped by ISIS to get US-aided abortions
READ MORE: 'Draconian, inhumane': N. Ireland abortion law reforms don't go far enough, say Amnesty
READ MORE: N. Ireland's 'draconian' abortions laws 'harshest in Europe' – Amnesty
The actual figure could be even higher, as this statistic only records the number of women who tell UK health authorities they are from Ireland.
Many women are thought to give the British address of a friend or relative, or simply order medical abortion pills online.
In a damning report published on Tuesday, Amnesty International said Irish abortion law treats women like "child-bearing vessels."
The report, which is part of Amnesty's 'My Body My Rights' campaign, found that women risk putting their health and lives in danger if they stay in Ireland.
Amnesty's Secretary General Salil Shetty said: "The human rights of women are violated on a daily basis because of a constitution that treats them like child-bearing vessels.
"Women who need abortions are treated like criminals, stigmatized and forced to travel abroad, taking a serious toll on their mental and physical health.
"The Irish state can no longer ignore this reality, and the appalling impact it is having on thousands of people every year."
Amnesty's report comes as Britain's NHS faces intense criticism for its 'scandalous' negligence after it set aside just under £1 billion in compensation payments for 1,316 babies unintentionally killed or maimed last year.
The most common claim relates to the failure of midwives and doctors to monitor babies' heart rates properly, which can lead to oxygen starvation and brain damage if the birth is not hastened.
Last year, the NHS paid out £268 million for claims relating to this basic mistake.
Claims for stillborn babies are also increasing, as parents realize their child's death should have been prevented.
James Titcome, who helped expose the Morecambe Bay maternity scandal after the death of his own son Joshua, told the Times: "That we're spending £1 billion is absolutely shocking. There should be no room for failing to learn, yet the system that we have at the moment is woefully inadequate."
A spokesman for NHS England said: "We expect all mothers and their babies to receive excellent care ... At a time when we need to get the best possible value within the NHS, the need to ensure the highest standards of safety becomes more urgent, not less."
You can share this story on social media: