Donald Trump loses legal battle over Scottish wind farm ruining golf course view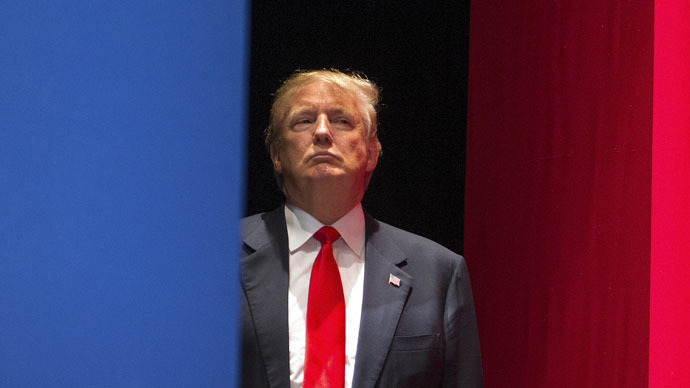 US billionaire and property tycoon Donald Trump has lost a legal battle with an offshore windfarm which he claimed would ruin the view from his Scottish golf course, currently under construction in Aberdeen.
Trump had protested against the construction of the Aberdeen Bay wind farm, and had hoped the courts would review the decision to allow the development to go ahead. He argued the decision made by Scottish ministers in 2013 was illegal.
The tycoon claimed there had been no public inquiry into the construction of the windfarm, which he said was a legal requirement.
On Friday, presiding judge Lord Gill ruled the decision had been legal and that there was insufficient evidence to prove ministers had acted illegally.
Gill's written judgement explained Trump's argument was based on anecdotal evidence, which, he ruled, could not be considered an official statement of the Scottish government's intentions.
"The petitioners' case on this point is based on an account by the American writer of A Travel Golf Blog of an incident in August 2012.
"The mise-en-scène was a hospitality tent at the Scottish Open at Castle Stuart in which the First Minister and other guests were having, according to this account, 'an amazing lunch.'
"The writer reports that his American colleague asked the First Minister whether the wind farm would ever be built to which the First Minister replied 'absolutely,' and remarked that he would not have his energy policy 'dictated by Mr. Trump.'
READ MORE: TPP trade deal 'a disaster,' other countries will 'dupe' US – Donald Trump
READ MORE: Trump takes first steps towards 2016 presidential run; turns down 'Apprentice' renewal
"All of this occurred on a social occasion no doubt dedicated to the appreciation of golf.
"It is difficult to take a remark of that kind, if it was made, as a considered statement of the Scottish ministers' intentions, especially as the decision was one that would be made by the Minister for Energy, Enterprise and Tourism in light of detailed technical advice."
Gill's ruling followed a hearing held earlier in 2015.
The billionaire said the proposed renewable energy source would ruin the view from his golf course and resort at Balmedie.
In January Trump's legal team took action before judges Lord Gill, Lord Malcom and Lord Menzies, where John Campbell QC, acting of behalf on Trump, advocated a judicial review into whether Scottish minsters acted legally.
He argued that the project was biased due to funding received from Aberdeen City Council and the European Union.
But Lord Gill ruled Trump's legal team had failed to prove their argument.
"The emphasis in counsel's submission was the multiplicity of allegedly suspicious considerations when looked at as a whole pointed clearly to the conclusion that the decision was pre-determined and that the ministers showed a bias in favor of the development.
"I do not agree. None of the considerations founded upon by the petitioners comes anywhere near to supporting the petitioners' suspicions. I fail to see how the aggregation of them makes its case any stronger," he added.
Judges Lord Menzies and Lord Malcolm agreed with Lord Gill's judgment.
You can share this story on social media: