'Charm offensive': Cameron tours Europe in bid to drive EU reform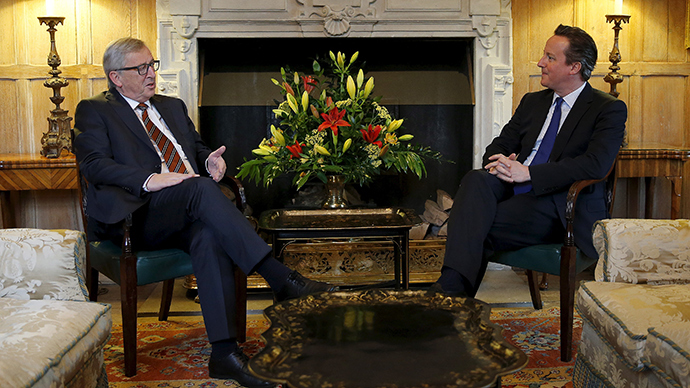 France and Germany have brokered a pact to plough ahead with eurozone integration in the absence of treaty changes, in what will be interpreted as a setback to Prime Minister David Cameron's proposals for EU reform.
German Chancellor Angela Merkel and French President Francois Hollande have officially agreed to create a closer union within the confines of existing EU treaties.
The pact, which will be presented at an EU summit in June, will likely limit Cameron's scope as he strives to negotiate a better deal for Britain in advance of the UK's EU membership referendum.
News of the Franco-German deal surfaced as the PM hosted the President of the European Commission (EC) Jean-Claude Juncker for dinner on Monday evening.
READ MORE: Brexit threat: Cameron sets out reform demands at EU Latvia summit
READ MORE: Tories plan to jail, fine illegal migrant workers amid highest immigration figures since 2011
READ MORE: Sturgeon attacks austerity Britain, commits Scotland to EU
Monday's working dinner took place at the Chequers Court – the PM's official rural retreat in Buckinghamshire, England.
It marked the start of a seven-day charm offensive during which Cameron is set to visit five European leaders in a bid to renegotiate the terms of Britain's EU membership.
Cameron channeled ex-Conservative PM Winston Churchill during the discussions in a ploy to win allies in his battle for reform.
Monday's talks were held in the very country residence the wartime hero frequented during his stint as Conservative Party leader and prime minister.
Speaking to Juncker on Monday, Cameron said British people are "not happy with the status quo" and believe the EU needs radical reform ahead of Britain's 2017 referendum.
In response, the EC chief said he wishes to aid Britain in finding a fair deal and that further debate with other EU leaders would be required to carve out the "best way forward."
Juncker, widely perceived to be on the left of Europe's center-right spectrum, previously hinted that he would consider minor EU treaty changes. However, he has taken amendments to EU citizens' right to move freely off the negotiation table.
Cameron aims to meet all leaders of the 27 EU member states in advance of a European Council (EC) summit scheduled for late June.
On Thursday, he will journey across Europe to meet Danish Prime Minister Helle Thorning-Schmidt in Copenhagen, the Dutch Prime Minister Mark Rutte in The Hague and French President François Hollande in Paris.
On Friday, he is set to meet the Polish Prime Minister Ewa Kopacz in Warsaw and German Chancellor Angela Merkel in Berlin.
The pledge of an in/out referendum on the UK's EU membership was a cornerstone of the Tories' General Election manifesto. But whether Cameron can broker a better deal for Britain in Europe prior to the landmark vote remains to be seen.
A spokesperson for Number 10 told the Guardian that Cameron's meeting with Juncker on Monday was unlikely to breed decisive solutions. The terms for the UK's EU membership also require the European Council and European Commission's consideration, he said.
Cameron's latest round of negotiations on Britain's EU membership kicked off at the Eastern Partnership summit in Riga, Latvia, on Friday.
Speaking in Latvia, the PM downplayed expectations for a quick-fix deal, but promised to raise the issue at every EU summit until suitable plans for reforms are agreed upon.