​Brexit threat: Cameron sets out reform demands at EU Latvia summit
Published time: 22 May, 2015 16:49
Edited time: 22 May, 2015 16:55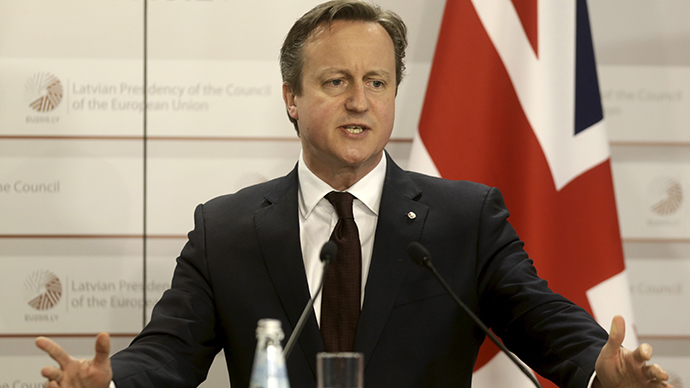 Prime Minister David Cameron traveled across Europe on Friday to set out terms for Britain to stay in the European Union (EU). He said brokering a better deal for Britain "won't be easy" and will take time.
The PM vowed to deliver tangible reform of the bloc as he arrived at a summit in Riga, Latvia to meet fellow EU leaders. It is the first summit the PM has attended since his General Election win on May 7.
In coming days, Cameron will seek backing from leaders across the bloc on his proposals for reform of the EU.
He has been under renewed pressure to tackle high levels of immigration in Britain, following the release of controversial Office of National Statistics (ONS) statistics on Thursday. The figures show that net migration from outside the EU is at its highest level since 2011, and is now rising almost as fast as migration from within the bloc.
The figures have prompted the Tories to push ahead with benefits cuts for EU migrants, sparking concern among opposition MPs and outrage from campaigners.
Among these changes, are plans stop EU migrants claiming tax credits for their first four years living in Britain, something that senior diplomats say is incompatible with continued membership of the bloc.
On Thursday night, the PM acknowledged the path to reform would be challenging and fraught with "difficult negotiations" ahead.
"These talks will not be easy. They will not be quick. There will be different views and disagreements along the way," he said.
German Chancellor Angela Merkel said Germany and France would form a "united front" in talks with Cameron. Merkel made the remark after a meeting with French President François Hollande on Wednesday.
"We have talked about beginning discussions with our British colleagues after the elections, and we strive for a very close coordination in this regard," she said.
The ONS figures, released Thursday, show net migration has risen to nearly 320,000, an increase of over 100,000 since this time last year. They represent a catastrophic failure for the previous Conservative-led coalition, which pledged to have net migration capped at "tens of thousands."
European diplomats said Cameron's planned benefits reforms for migrants would fly in the face of free movement across the EU and would amount to discrimination.
Last week, the frontrunner in Labour's leadership race, former Health Secretary Andy Burnham, called for the referendum on Britain's EU membership to be brought forward to 2016.
"It should be in the Queen's speech that it should be in 2016, and the message I would send to Cameron is that I would offer support to deliver it in 2016. It is not going to be in anybody's interest for this to rumble on through this parliament," he said.
"That is the most fundamental problem facing British business right now."
The move would be a shift from outgoing Labour leader Ed Miliband's stance, who staunchly opposed the referendum. In March, Miliband said the referendum would play havoc with Britain's business sector.
Speaking to The Observer last week, Burnham said he would overturn Labour policy on the EU. He said he would back a referendum "wholeheartedly, hoping for a new deal, and a yes vote."
"If Cameron doesn't deliver legislative change in terms of abuse of the rules of free movement by agencies and the effect on people with jobs here, it won't be good enough," he said. "It really won't be good enough."
As the summit progresses, Greek Prime Minister Alexis Tsipras is expected to discuss the Ukraine conflict, and use the talks to corner Merkel over his country's debt crisis.