Tories plan to jail, fine illegal migrant workers amid highest immigration figures since 2011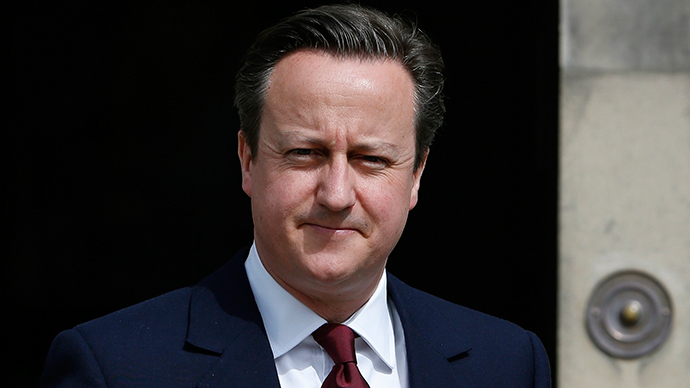 Prime Minister David Cameron has unveiled new laws to prosecute migrants working illegally in the UK as immigration figures from the Office of National Statistics (ONS) reveal that net immigration reached 318,000 in 2014.
The latest figures represent a catastrophic failure for the previous Conservative-led coalition, which pledged to have net migration capped at "tens of thousands."
Quarterly ONS statistics show that net migration from outside the European Union is at its highest level since 2011, and is now rising nearly as fast as migration from within the EU.
The total migration figure of 318,000 is a 20,000 increase on the previous four-quarterly total of 298,000. This nears the 2005 total of 320,000 recorded at the height of the first post-EU expansion wave of eastern European migration.
READ MORE: 'Immigrants stealing our jobs, Muslims taking over': UK schoolkids' survey exposes social divisions
The rise in non-EU immigration will present a further challenge for Cameron, who has previously laid out plans to tackle immigration by challenge the EU principle of free movement of labor.
Madeline Sumption from the Migration Observatory at the University of Oxford said that today's figures show "how difficult it would be to reduce net migration to the 'tens of thousands.'"
"Net migration has risen even despite new restrictions on family, work and student visas that were introduced during the last parliament," she added.
Cameron countered controversy surrounding the latest figures Thursday by announcing proposals to criminalize illegal work in Britain.
Making his first major speech since his reelection, Cameron said UK authorities would crack down on immigrants who violate the conditions of their stay in Britain. He said such legal breaches could see immigrants imprisoned for six months.
READ MORE: Terror threat: Belfast most dangerous city in Europe – risk analysts
A statement from Number 10 said: "The new criminal offence of illegal working will apply to migrants who have entered the country illegally and also those who came to the country legally but are in breach of their conditions or have overstayed."
"It will deprive illegal migrants of their wages, which will make it harder for them to stay in the UK," the statement said.
"It will also mean that people who are here illegally can't benefit from working and police can seize wages as proceeds of crime."
In response to the proposals, Cameron's former Coalition partners, the Lib Dems, said the Tories were once more "pushing the button" of tackling immigration without considering the consequences.
"The Tories promised to cut net migration to tens of thousands but failed spectacularly. Instead of admitting their target was a stupid idea, they have pushed the 'let's sound tough on immigration' button yet again," Lib Dem peer Lord Paddick said.
"Theresa May needs to get it into her head – not all immigration is bad. If she was serious about cracking down on illegal immigration she should concentrate on what works and not tar all immigrants with the same brush."
Labour MP Yvette Cooper said she thought Cameron was "taking people for fools." She said the gap between "rhetoric and reality, between promise and delivery" was eroding trust in the newly formed government.
The Green Party also criticized the measures, describing them as "arbitrary and illogical."
You can share this story on social media: