​Transport workers' strike vote 'massive mandate for action' – union chief
Published time: 13 May, 2015 10:08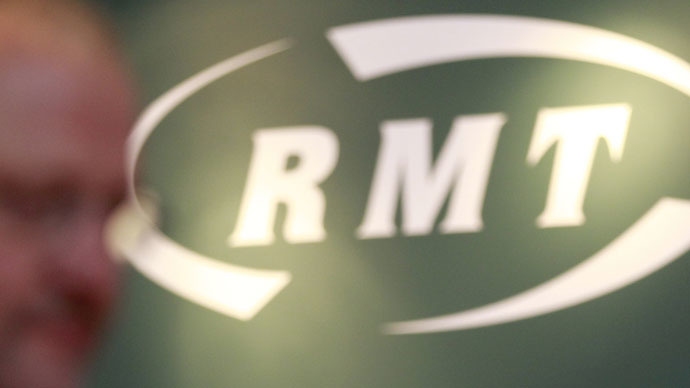 RMT members have voted to take on Network Rail bosses over pay as the union's general secretary urges the company to start taking workers' 'deep seated grievances' seriously.
Last week's ballot on industrial action, the results of which were published last night, saw 80 percent of eligible members voting to strike.
They had been offered a £500 one-off payment but no pay rise, a proposition many workers and union officials found unacceptable and roundly rejected.
"Our members have today decisively rejected the pay package offered by Network Rail," said RMT general secretary Mick Cash.
"This is a massive mandate for action and shows the anger of safety-critical staff across the rail network at attacks on their standards of living and their job security."
READ MORE: Blue-collar Conservatives: RT asks 'Are the Tories really the new workers' party?'
"It is now down to Network Rail to start taking this issue seriously, to understand the deep-seated grievance felt by their staff and to come forward with a renewed offer which protects pay and jobs."
A second union, the Transport Salaried Staffs' Association (TSSA), has also voted on industrial action with results expected on Friday.
Bosses and ministers were quick to close ranks, attacking the workers' democratic decision in the frankest terms.
Network Rail boss Mark Carne told the Guardian: "The railways are a vital public service, and industrial action would have a massive impact on millions of passengers as well as freight distribution across Britain. It cannot be right that the unions can hold the country to ransom in this way."
Transport Secretary Patrick McLoughlin echoed the firm's view, telling the paper: "I condemn any industrial action that disrupts the travelling public. I want to see Network Rail and the unions back round the negotiating table, hammering out a deal.
"Rail passengers will not thank the unions for inflicting this unnecessary disruption."
If the strike goes ahead it may bring about the first major post-election clash between a militant British workforce and one of the new government's most committed free market ideologues.
Newly appointed business secretary and multimillionaire banker Sajid Javid has already pledged to claw back workers' rights to strike with new and far-reaching Thatcherite-style anti-union laws – including a legally-enforced requirement that 50 percent of member vote to strike before action can take place.
READ MORE: Tories 'tighten the noose' of anti-trade union laws, threaten right to strike – activists
Javid told the BBC: "The changes that we want to make to strike laws are proportionate, they're sensible. If you look at other countries and what they've done they're not too dissimilar."
Union bosses countered, saying such a move would make legal strikes by workers trying to protect their livelihoods "close to impossible." They also point out that had the Conservatives lived by the same minimum voting rule, they would not have won the general election last week.
As the standoff looms, it has also been revealed that the government expense watchdog IPSA believes that a £7,000 increase in MPs pay should go ahead, bringing annual pay up from £67,060 to £74,000 – many times the average wage for British workers.