​Blue-collar Conservatives: RT asks 'Are the Tories really the new workers' party?'
Published time: 12 May, 2015 13:53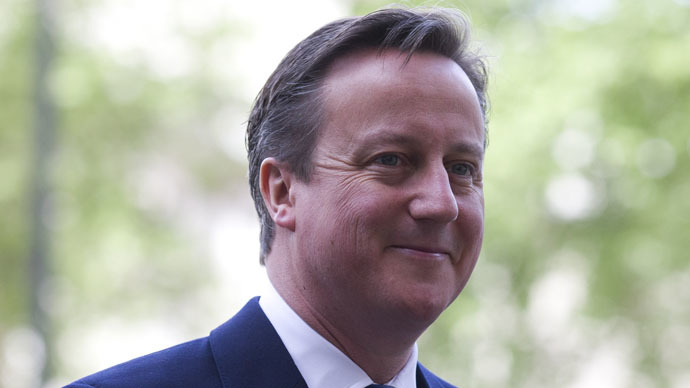 David Cameron says the Tories are the new party of Britain's working people, as he seeks to shrug off the Conservatives' 'party of the rich' image. RT examines the new administration and finds little has changed.
The new cabinet includes a number of women in key roles as well as a greater proportion of MPs educated at comprehensive schools – signs, some claim, of a genuine realignment of Tory interests with those of women and the working class.
READ MORE: What can UK voters expect from Tory majority govt?
Old Etonian Cameron told his new frontbench team: "I want everyone around this table to remember who we're for. Every decision we take, every policy we pursue, every program we initiate, never forget: we're here to give everyone in our country the chance to make the most of their life.
"The pundits might call it 'blue-collar Conservatism,' others being on the side of hardworking taxpayers. I call it being the real party for working people: giving everyone in our country the chance to get on, with the dignity of a job, the pride of a paycheck, a home of their own and the security and peace of mind that comes from being able to support a family."
That the Tories are class warriors has been brought into sharp relief over the last five years. Much more debatable is the question of which class they are fighting for.
This time, with the coalition consigned to memory and a Tory majority in power, the Conservatives will not have to face even the mild resistance offered by the Liberal Democrats.
A quick breakdown of some of those steering Britain into the next phase of austerity certainly draws into question the cabinet's credentials as friends of "hard-working families."
George Osborne
Osborne, whose wealth, like Cameron's, is largely inherited, will continue as Chancellor of the Exchequer as the Tories look to impose the up to £12 billion in welfare cuts he presented in his last Budget.
Iain Duncan Smith
One of those keenest to implement Osborne's cuts is former Tory leader Iain Duncan Smith, whose program of welfare and benefits cuts have seen him fiercely criticized.
He is expected to push the annual benefits cap further down from £26,000 to £23,000, to increase the bedroom tax, to trim maternity pay and remove financial support for all but the poorest carers.
IDS, as he is known, may also end up increasing reliance on food banks.
The Trussell Trust recently reported that over 1 million people needed emergency food last year. "Many of those were working poor, while half accepted food as a result of welfare system failure..."
Sajid Javid
Ex-banker Sajid Javid was elevated to business secretary in place of ousted Liberal Democrat Vince Cable, whose mildly social democratic leanings often chafed with the Conservatives' commitment to free market economics.
While educated at a comprehensive school, Javid made millions in banking. His main aims are said to include the introduction of far-reaching anti-union laws in the Thatcherite mold, and the removal of regulations on business.
Jeremy Hunt
Jeremy Hunt, who despite being 'self-made' may be the richest cabinet member, has been kept on as health secretary.
The son of a Royal Navy admiral, Hunt has led the charge on NHS cuts and was heavily criticized after it was revealed in March this year that the Tories helped to set up a record £780 million sell off deal for a health service on which most of the working population of the UK rely.
Boris Johnson
Alexander Boris de Pfeffel Johnson, better known as Boris, will collect the wages of both an MP and Mayor of London until the end of his tenure in the capital's top job.
He will also enjoy a cabinet role, though he will not (yet) have a seat at the top table with his Bullingdon Club contemporary David Cameron.
In November last year, the Guardian reported that Boris, whose disarming buffoonery has made him popular with many, was planning to cut up to 90 percent of the funding for schemes used to support some of the capital's most vulnerable, impoverished young people.
READ MORE: Victorian Britain? Teachers feeding, clothing, & providing basic parenting to poor pupils
In August 2013, the Mayor approved the redundancies of hundreds of firemen and the closing of 10 fire stations in the capital.
His clashes over tube strikes with the late RMT union chief Bob Crow are legendary, with Johnson once saying he found strikes to defend working conditions: "completely unnecessary and wrong."
With a cohort such as this in government, the Tories will have their work cut out convincing working class voters they are anything but the same old detached, privileged 'nasty party,' as they are widely perceived.