Victorian Britain? Teachers feeding, clothing, & providing basic parenting to poor pupils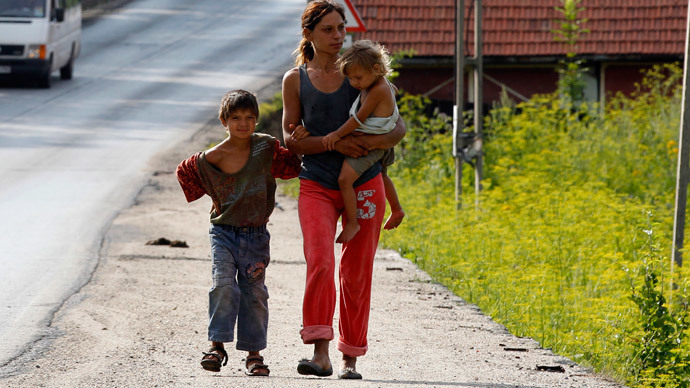 British teachers concerned about the welfare of disadvantaged pupils have taken to washing their clothes, feeding them homemade lunches and even offering the youngsters haircuts as they warn of a resurgence of Victorian levels of poverty in the UK.
The crisis of growing poverty amid young school children in disadvantaged parts of Britain was laid bare in a damning study conducted by Britain's National Association of Head Teachers (NAHT).
As part of the research, a total of 2,000 leading teachers at schools across the UK were questioned. An overwhelming 84 percent said they were offering youngsters a higher degree of support than they were in 2010, when Britain's financial crisis was ongoing.
The report, published on Friday, revealed teachers regularly offer poor children sports kits for school, and tickets to attend school trips to ensure they don't miss out on formative activities early in life.
As British families struggle to make ends meet, many of these teachers delve directly into their own pockets and limited school budgets to help those in poverty, the study found.
Louis Coiffat, who led the NAHT study, said schools are providing basic parenting services to many poor children.
"If you're a poor child growing up in what seems like Victorian Britain at times, schools have to provide basic parenting and other services," he told the Telegraph.
Coiffat said he had come across one child in Hackney, East London, who arrived in school with toothache and food in her teeth, and had to be shown how to brush her teeth by a teacher.
READ MORE: Emotional toxicity of austerity eroding mental health, say 400 experts
Other teachers provide pupils with toothbrushes and monitor their brushing during class time, the study revealed.
The NAHT's research also indicated teachers were purchasing school bags and school stationary for their pupils, offering them free transport, and ensuring they received birthday cards. Staff were also found to be running food banks through schools, with the assistance of charitable donations.
General Secretary of the NAHT, Russell Hobby, stressed further cuts to public services unleashed by the next government will inevitably hit state-funded schools hard.
"Regardless of the promise to protect education spending in the next parliament, cuts to other public services will come home to roost at the school gates," he said.
Hobby stressed state-funded schools across the UK are already offering many poor children unfunded support, and that the situation is likely to get worse.
"This is money that schools are having to find to help families who have been left high and dry by cuts to public services. This pressure is only going to increase," he warned.
READ MORE: 'Families in firing line': Tories will make deeper child benefit cuts, Labour says
The NAHT General Secretary said further austerity and deeper cuts are on the horizon irrespective of who enters government next month.
He said schools will continue to do their utmost to assist children in poverty but that many are already providing more support than they can justify.
"Schools are judged on results and on the quality of the teaching and learning they offer, but this is a much wider problem," he said.
"Asking schools to foot the bill for cuts elsewhere, and abandoning the poorest families is the wrong way to go about paying down the deficit."
England is currently home to 6,788 state-funded primary schools and 3,329 state-funded secondary schools.
According to the NAHT, British primary schools are contributing roughly £2,000 out of their already strained budgets to assist children in poverty each year, while the figures stands at £3,000 for secondary schools.
You can share this story on social media: