Bae on fleek! Social media leads 'rapid' change in English language
Published time: 1 May, 2015 13:03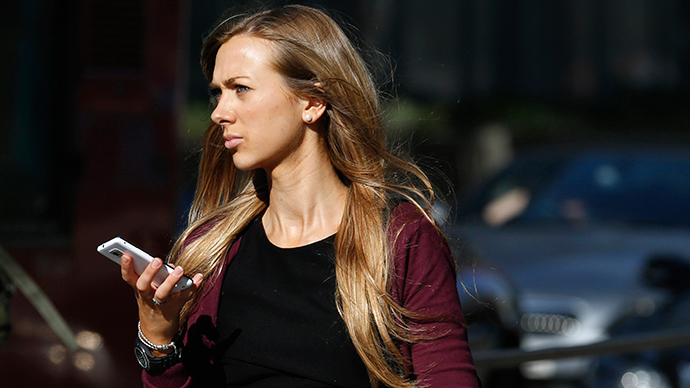 The informal terms widely used by Millennials on social media are overshadowing the modern English language, leaving parents utterly confused by the slang words used by their children, experts say.
The "seismic generational gap" between the youth and their elders has left parents in the dark, and completely unaware of the new "code" language their children are using.
Adults are now finding it more difficult to communicate with young people and the rapid growth of social media may be to blame.
A new study led by Professor John Sutherland from University College London explores the common social media language and 'text speak' terms youngsters exchange for modern English words.
The term 'fleek' is the most popular on social media, and it is used to refer to someone who is looking perfect or flawless.
im tryna wait till prom to get on fleek but uhhhhhhhhhh i think its bout that time lol

— ❤️ (@bkh__) May 1, 2015
eyebag game on fleek cause i'm tired af

— FREDDY (@FreddyAmazin) April 30, 2015
Booty on fleek

— Caitlin Marie (@cmmhhh) May 1, 2015
This is followed by the term 'bae' – shorthand for baby – often used to describe a loved one.
When you try to tie your shoes but you see Bae watching #actnaturalhttps://t.co/jgpEpBBzBf

— Zendaya (@Zendaya) April 30, 2015
when bae doesn't return your text, but he's all over twitter pic.twitter.com/xZJ85NQJBp

— don't look at me (@factsonfemales) May 1, 2015
Waking up next to Bae like pic.twitter.com/hRuEk9dXp2

— Cute Overloads (@CuteOverloads) May 1, 2015
The study found these two terms confuse parents the most. Only 10 percent of the 2,000 surveyed knew what 'bae' meant while 43 percent didn't know what 'fleek' meant.
Millennials also seem to use more acronyms to communicate, leaving parents even more baffled.
'TBT' is a popular acronym widely used on Instagram, short for 'Throw Back Thursday.' Users use this as a hashtag to share old pictures.
today's #tbt -- "miserable at best" in a high school library & by far my best era for fashion pic.twitter.com/zrfvqNu8qP

— Paradise Fears (@paradisefears) May 1, 2015
Other popular acronyms include 'FOMO,' which is short for 'fear of missing out,' and ICYMI is short for 'in case you missed it.'
Looks like I'll be in Vegas next week for the fight weekend. It's gonna be so packed w/ annoying drunks, but that FOMO is making me go smh

— Timothy DeLaGhetto (@Traphik) April 24, 2015
ICYMI: Be sure to check out the brand new #DWYL Bel Air (@deekly) remix, exclusively on @PopOnAndOn here! ▶️ http://t.co/6EOYfs0aBD

— Jacob Taio Cruz (@TaioCruz) April 30, 2015
Teenagers also appear to be diluting the meaning of modern English words. The study highlights the term 'thirsty.' Even though the word is normally used to describe ones need to drink, Millennials are using it to mock people who seek attention from the opposite sex online and in reality.
its sad bestie from tumblr whenever she plays stuff she avoids her best to never tell anyone shes a woman cause guys are thirsty and creepy

— Chris | クリス (@shinydenryu) April 28, 2015
Stop going after that girl that gets over 30+ comment from thirsty guys on Instagram. You don't need to live such a stressful life.

— Shaheed Petersen (@Shaheeeed_) May 1, 2015
Don't complain about "thirsty" guys trying to talk to u when you're out there posting half naked pics of yourself

— alenka (@a_morax) May 1, 2015
According to the Samsung commissioned study, 86 percent of British parents believe youngsters communicate in a completely different language on social media and mobile messaging.
Surtherland says the limitation of characters on old handsets "were a key factor in the rise of acronyms in text messaging such as TXT, GR8 and M8."
New tech innovations mean older acronyms are "now effectively extinct from the text speak language and are seen as antique text speak."
However, the growing use of emojis may herald a newer phase in social media communication, Sutherland said.
READ MORE: Could Twitter sway the general election? Youth 'politicized' online, says survey
"The use of audio and visual messaging has become more commonplace with the soaring popularity of social media and instant messaging apps such as Instagram, Vine and Snapchat," he added.
We appear to be moving to a more "pictographic form of communication with the increasing popularity of emotion," Sutherland added.
Surtherland says language is moving back to a "caveman form of communication" where a single image can convey a full range of messages and emotions.
"In the future less words and letters will be used in messaging as pictures and icons take over the text speak language," he added.
Social media has revolutionized the way youngsters communicate. As technology develops, it seems the English language has no choice but to keep pace with it.