​Occupy Democracy fight corporate power in 10-day spectacle of dissent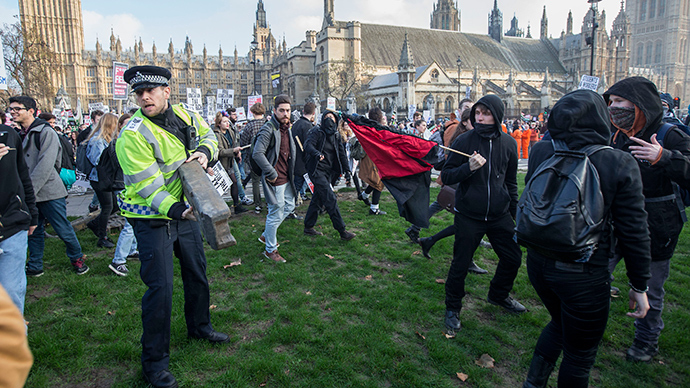 As Britain braces for next week's general election, political activists, academics and artists will occupy London's Parliament Square for ten days in an effort to tackle corporate capture, environmental chaos and cronyism.
The ten-day affair has been organized by Occupy Democracy, a social and political movement that seeks to address Britain's democratic deficit, and build a fairer society in the process.
Billed as a Festival of Democracy, the ten-day spectacle will feature workshops, artistic performances, creative direct actions and discussions throughout the election period.
It will begin on Friday evening with a show from New York-based radical performance group Reverend Billy & The Stop Shopping Choir.
The group describe themselves as "wild anti-consumerist gospel shouters and Earth loving urban activists." They carry out artistic performances across the globe in an effort to preserve local communities, life and the sanctity of imagination.
READ MORE: VIDEO: Police clear #OccupyDemocracy protesters from Parliament Square
Campaigners gathered on Friday evening will also listen to a talk by John Hillary of the social justice group War on Want, a talk from US anthropologist, activist and anarchist David Graeber, and a talk examining the destruction of remote Aboriginal communities in Australia.
Saturday's events will focus on addressing dwindling levels of democracy in Britain, with activists demanding "proportional representation" and "a citizen-led constitutional convention."
Events scheduled throughout the day include a workshop on "communing," a range of games, a panel debate on proportional representation chaired by Jean Lambert MEP, and a creative protest in which activists will engage in flash mob-styled 'guerilla gardening.'
On Sunday, Occupy Democracy will focus on raising awareness of the corrosive nature of corporate lobbying and party political funding. The group will host a talk from author and activist Tom Lines on corporate lobbyists' role in backing TTIP, along with panel discussions and political poetry.
Monday's events and workshops will focus on politics and vested interests, along with the looming climate crisis.
Occupy Democracy activists will demand full democratic reform of Britain's mainstream media on Tuesday. The group will feature a workshop on "subvertising and brandalism" from Strike! Magazine – a publication run by financial justice activists based in New York.
Other events scheduled for the day include talks from the Media Reform Coalition and the Bureau of Investigative Journalism, and a string of progressive comedy acts.
On the eve of Britain's general election, Occupy Democracy will celebrate the spirit of dissent. The group will host a range of educational workshops dedicated to teaching the art of effective campaign work with speakers from some of Britain's biggest social, political, and environmental campaigns.
In honor of the election itself, Occupy Democracy will showcase a series of events examining the history of democracy.
And as the nation ponders the future of British democracy on May 8, Occupy Democracy will use its base in Parliament Square to explore some of the more promising campaigns challenging Britain's status quo.
On Saturday May 9, the festival of democracy will explore a range of alternate political systems across the world, with participatory sessions on what the West can learn from Latin America, democracy and anarchism, and a talk from Campaign Against the Arms Trade.
The ten-day festival is set to close with a session on how activists can go about building a better world, discussion on Occupy Democracy's strategic path ahead, and a talk from David Whyte, the author of How Corrupt is Britain?
READ MORE: Anonymous Now: Million Mask March descends on London
Occupy Democracy have laid out 6 key demands for the next government and the wider British establishment. The coalition is calling for the reform of Britain's political party funding system so that MPs are compelled to "act in the interests of those who elect them rather than the 1 percent who bankroll them."
It is also calling for large-scale reform of a media dominated by vested and corporate interests, and a drastic overhaul of corporate lobbying, crony capitalism and plutocratic politics.
The broad-based coalition of campaigners is also urging the next government to introduce proportional representation, a work to create a political landscape free from conflicts of interest.
Speaking in central London prior to the opening of the group's Festival of Democracy, Occupy Democracy activist George Barda said "democracy means more than putting a cross on a ballot paper every five years."
"History shows us that the extension of our democratic rights has not been led by politicians, but has been forced onto the agenda by the actions of mass movements such as the Chartists and the Suffragettes. We are asking people to join us and help build such a movement."
You can share this story on social media: