Anonymous Now: Million Mask March descends on London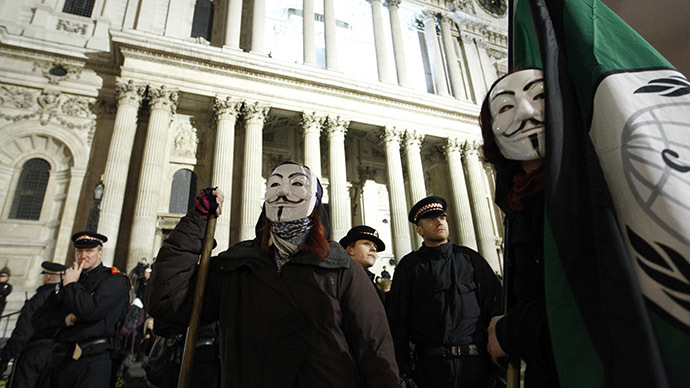 The Million Mask March will course through London on Wednesday November 5. The march, in which all demonstrators obscure their faces to protect their identity, is in protest against austerity, mass surveillance and attacks on human rights.
Organized by the global hacktivist group Anonymous, the London protest will march from Trafalgar Square and finish at the Houses of Parliament.
It is unknown how many demonstrators will join the march, as pleas from police for information have remained unanswered.
In 2013 the event gathered crowds of more than 2,500. The Facebook event suggests over 6,000 people may attend this year.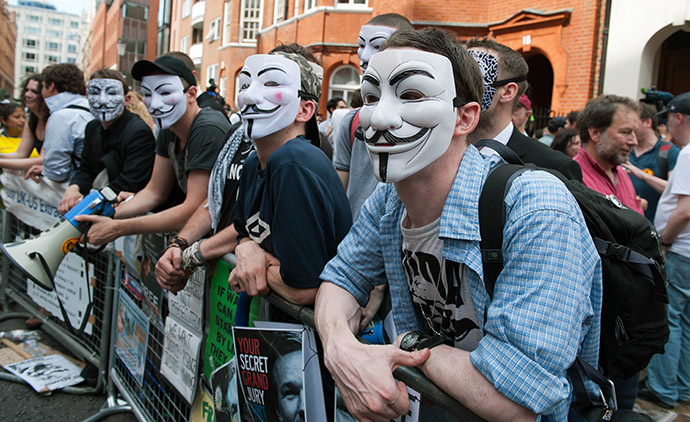 Speaking to RT, an Anonymous source said the Million Mask March, a tradition began in 2011, was originally called OpVendetta, and initially only gathered a crowd of 50.
Within a year, the following had grown to 2,000, and in 2013 the decision was made to rename the march the "Million Mask March," the source said.
1 million people expected to be outside Parliament on Wednesday for the million masked march. Very keen!!

— Abby Webb (@abbyjaynew) November 2, 2014
In 2013, there were over 400 Anonymous demonstrations worldwide, held to coincide with the annual British tradition of Bonfire Night of November 5, the date on which a group of dissident plotters tried to blow up parliament in 1605. Attendants often wear a Guy Fawkes mask, made famous by the 2005 film V for Vendetta, which has become the group's trademark disguise.
The global protests took place last year in various world cities including Vancouver, Tel Aviv, Dublin, Paris, Chicago and Sydney.
@RT_com: Masked Anonymous allies march around the world - http://t.co/7plsHw7O5hpic.twitter.com/DXSzTc0Gn5@BBCBreakfast 4 U AS YOUVE MISSED IT

— Gh05t0fC4in (@Gh05t0fC4in) November 6, 2013
RT's Anonymous source said: "It's a night of grievance on a night that's historically about parliament and how it's not always working in the people's interests."
"We burn an effigy of Guy Fawkes on a fire each year as a warning against standing against parliament so we just felt it would be symbolic," they added.
In the lead up to the march, Anonymous sent a direct message to global bodies of power.
"To oppressive governments, we say this: we do not expect our campaign to be completed in a short time frame. However, you will not prevail against the angry masses of the body politic."
The message further addresses the British government, saying they have "made an enemy of Anonymous," and that they have "angered them considerably."
This annual protest against austerity comes after a wave of protests and strikes swept through the UK during September and October.
On October 12, National Health Service (NHS) workers staged a strike over an ongoing pay dispute. The four hour strike marked the first time in history in which nurses have taken strike action.
Are You Ready? Million Masked March November 5th Worldwide #Anonymouspic.twitter.com/1lphOdbtD6

— NO PULL OUT GANG (@__Grav) October 12, 2013
Three days later, on October 15, the Public Commercial Services union (PCS) walked out over a 1 percent pay rise cap – a pay cut in real terms. Some 200,000 public sector workers walked out for 24 hours, causing nationwide disruption to job centers, museums and courts.
More recently, police are alleged to have employed excessive violence against Occupy Democracy protesters in Parliament Square, forcibly removing tarpaulins and belongings and making over 40 arrests.
The Metropolitan Police say they wish to engage with Anonymous so they can "work together to ensure they can protest safely."
Chief Superintendent Pippa Mills said they are trying to contact Anonymous, but "no one has come forward."
"We are keen to talk with them to ensure they are able to protest; it is important that they talk to us so that we can work together to achieve a safe and successful event."
You can share this story on social media: