Supreme Court orders UK to take 'immediate action' over illegal air pollution
Published time: 29 Apr, 2015 15:55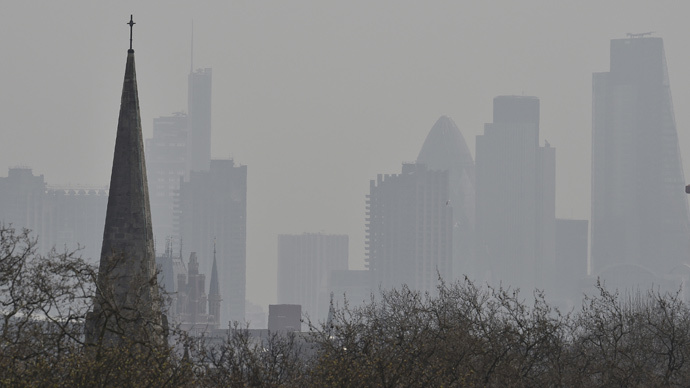 Britain's highest court has ordered the government to take immediate action over illegally high levels of air pollution in the UK.
The legal case relates to nitrogen dioxide levels in the air, which breach EU limits.
Britain's Supreme Court ruled unanimously the government must submit new air quality plans to the European Commission no later than December 31, 2015.
Air pollution is estimated to cause 29,000 early deaths a year in the UK, more than obesity and alcohol combined.
Scientists speculate this could even be an underestimate, as it does not include all air pollutants.
The case was brought by ClientEarth, a group of lawyers dedicated to environmental issues.
Announcing the ruling, Lord Carnwath said: "The new government, whatever its political complexion, should be left in no doubt as to the need for immediate action to address this issue."
Wednesday's decision follows a hearing last week, which is the culmination of a four-year legal battle.
ClientEarth's case against the British government centers on an EU directive, which set limits for air pollutants such as nitrogen dioxide and a deadline as far back as January 1, 2010.
READ MORE: UK govt in the dock over 'illegal' air pollution levels
The Air Quality Directive included a provision that allowed member states to establish zones where it would be difficult to reduce pollution.
According to the ECJ's ruling last year, "a Member State may postpone the deadline until 1 January 2015 at the latest."
The ECJ ruled the British government must have a plan to meet European air quality standards in the "shortest time possible."
UK courts were empowered by the ECJ to take any measure necessary to ensure the government complies.
ClientEarth took the case to Britain's Supreme Court on April 16 this year.
Under the government's current planes, air pollution would not reach legal levels in some British cities such as London, Birmingham and Leeds until 2030.
The court's ruling follows a day of high-to-very-high levels of air pollution in Southern England earlier this month.
Asthma sufferers were advised they may need to use inhalers more often and elderly people were warned to avoid physical exertion.
Campaigners at Clean Air in London cautioned those preparing for last weekend's marathon to "very seriously consider" training indoors.
Alan Andrews, a lawyer for ClietnEarth, said: "This ruling will benefit everyone's health but particularly children, older people and those with existing health conditions like asthma and heart and lung conditions.
READ MORE: Saharan dust blows into UK, triggering heart & lung health warnings
"The next government, regardless of the political party or parties which take power, is now legally bound to take urgent action on this public health crisis."
A spokesperson for the Department for Environment, Food and Rural Affairs (Defra) said: "Air quality has improved significantly in recent years and as this judgment recognizes, work is already underway on revised plans (since February 2014) to meet EU targets on NO2 as soon as possible."
"It has always been the government's position to submit these plans before the end of this year. Meeting NO2 limits is a common challenge across Europe with 17 member states exceeding limits."