​Bee-ware: 'Very aggressive, deadly' Asian hornets may be headed for UK
Published time: 20 Apr, 2015 13:41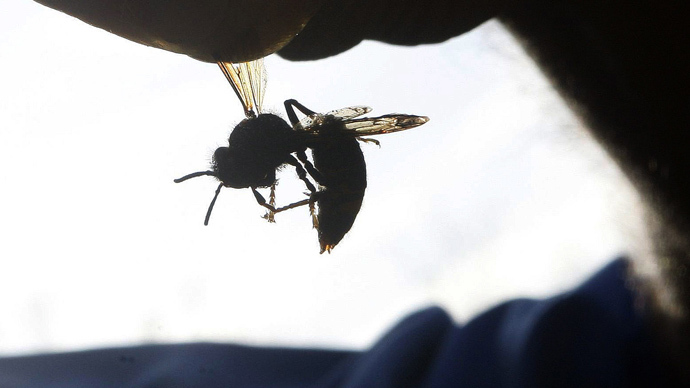 Britain's top bee specialists have called a 'council of war,' warning a species of Asian hornet with a chilling reputation could arrive in Britain with deadly results in the near future.
Millions of the beasts, which at three inches long dwarf the UK's native hornets, are said to be heading across Europe because of the early, hot spring.
They have already been blamed for six deaths in France, and have also been found in Spain and Portugal.
The National Bee Unit will hold an emergency meeting at Easton and Otley College in Norfolk in May to discuss what can be done in the event of an airborne invasion.
READ MORE: Bee careful: UK garden centers urged to drop popular pesticide to protect honeybees
Carolyne Liston, chair of Norfolk Beekeepers' Association, told the Telegraph the hornets "are a very, very aggressive predator."
"They wait by the entrance and grab foraging bees as they come back into the hive. They can absolutely decimate bee colonies.
"We are concerned they are going to come into Britain on someone's caravan who has been traveling in France."
The hornets are reported to be capable of eating up to 50 bees a day, and routinely take over the nests of other insects, leading to fears for the UK's native population – which already faces a number of challenges.
Earlier this month British garden centers were urged to withdraw a widely-used bug killer containing thiacloprid – a pesticide belonging to neonicotinoid group. They are controversial as many scientists believe they are contributing to the mass death of honeybees.
According to the UK Ethical Consumer magazine, promoting "ethical consumerism," nine leading garden centers in the UK sell a bug killer that contains thiacloprid.
READ MORE: Buzzing off! 1 in 10 wild bees faces extinction in Europe, study warns
Bees are the most important crop pollinators and many species of the insects have been facing drastic declines in recent years.
In 2013, the European Commission placed restrictions on three neonicotinoids (imidacloprid, clothianidin and thiamethoxam), citing worries about their impact on the insects. It said it would review the situation within two years.
Anyone who finds an Asian hornet nest, usually located high in trees or on buildings, is urged to contact the National Bee Unit, which will in turn alert specialists equipped with the proper chemicals to take on the volatile insects.