Bee careful: UK garden centers urged to drop popular pesticide to protect honeybees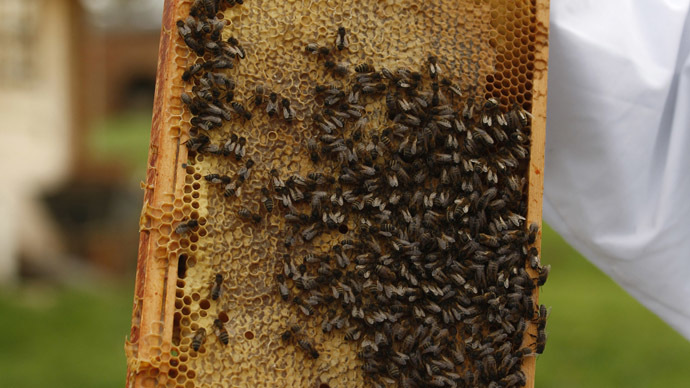 British garden centers are being urged to withdraw a widely-used bug killer containing thiacloprid – a pesticide belonging to neonicotinoid group. They are controversial as many scientists believe they are contributing to the mass deaths of honeybees.
According to the UK Ethical Consumer magazine, promoting 'ethical consumerism', nine leading garden centers in the UK sell a bug killer that contains thiacloprid.
Bees are the most important crop pollinators and many species of the insects have been facing drastic declines in recent years.
In 2013, the European Commission placed restrictions on three neonicotinoids (imidacloprid, clothianidin and thiamethoxam), citing worries about their impact on the insects. It said it would review the situation within two years.
READ MORE:'Bee killer' pesticide provides little benefit to farmers - EPA
The UK government reluctantly implemented the ban, though its official position remains that "the evidence suggests that effects on bees do not normally occur."
Thiacloprid is considered to be less toxic to bees than its banned analogues. Dr. Julian Little, a spokesman for Bayer CropScience, makers of the product, said the chemical is "extremely safe to bees when used according to the label instructions," as cited by the Guardian.
READ MORE: Bee studies feel sting of pesticide manufacturers – MPs
Meanwhile, the authors of the European Academy Science Advisory Council (EASAC) wrote in a new report published on Wednesday that there was "an increasing body of evidence" that neonicotinoids, used in more than 120 countries, have "severe negative effects on non-target organisms."
Jean-Charles Bocquet, director-general of the European Crop Protection Association (ECPA), which represents the pesticide industry, said in a statement that the new report reflects "a bias of the anti-neonicotinoid campaign" which is based on laboratory tests rather than field studies.
The scientific evidence around how damaging neonicotinoids are remains a point of contention for agrichemical companies and activists.
Andrew Pendleton, head of campaigns at Friends of the Earth, an international network of environmental organizations, believes that "with almost one in 10 European wild bees facing extinction and many more under severe threat, we cannot afford to spray chemicals linked to their decline in our gardens and parks."

READ MORE:Pesticides linked to honeybee decline are affecting other species, scientists say
Other recent studies also claim that these same chemicals could be playing a role in the declines of other species as well, such as butterflies and birds.
You can share this story on social media: