​'Bee killer' pesticide provides little benefit to farmers - EPA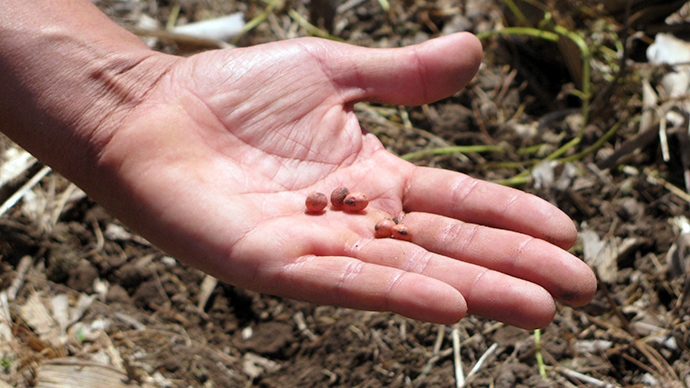 The Environmental Protection Agency has confirmed that a popular class of insecticide used to treat soybean seeds provides little or no benefit to the farmers – the pesticide, however, is the prime suspect for the deaths of 30 million honeybees.
The EPA's Biological and Economic Analysis Division (BEAD) made its conclusion after analyzing 26 published studies on the pesticide-treated soybean seeds and studying yields over a four-year period. They found no difference in soybean yield when using the treated seed, and it did not protect the bean any better than if there was no pest control.
.@EPA : neonics deliver ittle or no benefits to soybeans, on which they're widely used. Who's gonna break it to bees? http://t.co/sBstlf7ixb

— Tom Philpott (@tomphilpott) October 17, 2014

The class of insecticides in question are called neonicotinoids, which work on insects by damaging their central nervous systems, causing tremors, paralysis, and death. The insecticide is absorbed into treated plants and distributed in their vascular systems, rendering various parts – including the roots, leaves, stem, flowers, nectar, pollen, and guttation fluid – toxic to insects.

Soybeans are planted on 76 million acres in the US – the majority in the Corn Belt (Illinois, Indiana, Iowa, Missouri and Ohio), and Northern Plains (Kansas, Nebraska, North and South Dakota). The average value of the soybean yield is $38 billion per annum.
READ MORE:EPA does not have to address call to mandate labeling of hazardous pesticide ingredients - judge
The agency found the neonicotinoid-treated seeds were applied to 30 percent of soybean acres while the remaining crop land received a seed treatment of another type of insecticide, funigicide or nematicide. The agency concluded the neonicotinoid seeds are only active in the first 3-4 weeks of planting which doesn't coincide with typical periods of a pest activity. The chemical's main target is the Soybean aphid, which are general active later in the growing season.

Prior to 2004, the EPA said only 430,000 pounds of the neonicotinoid-infused seeds were used, but 2008-2013, one million pounds of treated seeds have been bought and used.

"Given that much of the reported seed treatment usage in the US on soybeans is not associated with a target pest, BEAD concludes that much of the observed use is preventative and may not be currently providing any actual pest management benefit," reported the EPA.
Hi, I'm #bumblebee, been here 30 million yrs. I'd like to stick around longer but unlikely without #neonicotinoid ban pic.twitter.com/qOGtmGDkng

— Brigit Strawbridge (@B_Strawbridge) October 16, 2014
The EPA also found that farmers said untreated seeds were either difficult to obtain or not available.

"EPA's fundamental purpose is to protect the environment and so far they've been protecting the bottom line of chemical companies who have sold farmers a bill of goods" said Larissa Walker, pollinator campaign director at Center for Food Safety (CFS), on the organization's website. "Maybe this new evidence will be enough to compel meaningful action that's long overdue."

At most, the agency found these seeds could provide insurance against sporadic or unpredictable pests, particularly in the southern United States. However, there was no real world experience detailing when that had happened, and if it occurred it wouldn't be widespread.

Peter Jenkins, the CFS attorney spearheading a lawsuit against the EPA over neonicotinoids, said, "It is abundantly clear that the costs of neonicotinoids outweigh the benefits, and there is no excuse for the agency to continue to allow such indiscriminate use."

In its report, the EPA makes no mention of the effect of neonciotinoids on other insects other than the ones targeted by the chemical companies like aphids, but the CFS did in their report released in March 2014.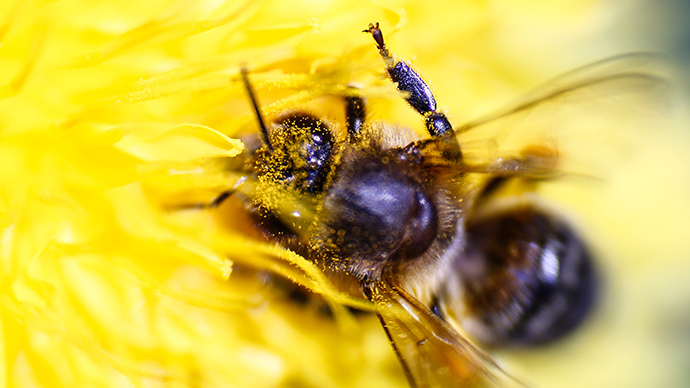 In that survey, the CFS linked the use of this insecticide to the dramatic downturn in the honeybee population.

"Neonicotinoids are a class of pesticides known to have acute and chronic effects on honey bees and other pollinator species and are considered a major factor in colony collapse," it read. "Neonicotinoid pesticides are also slow to break down, causing them to build up in environments where they are applied. They contaminate surface water, ground water, and soil, endangering not only pollinators, but also other beneficial species that inhabit these ecosystems."
READ MORE:Chemical producer lobbies for increase in allowed levels of pesticide linked to 'Beemageddon'
The US Department of Agriculture (USDA) has estimated that 10 million bee hives have been lost since 2006, representing a two-billion-dollar cost to beekeepers. The USDA estimates pollinator services to be worth $20-30 billion annually.
Scary infographic: only 5% of neo-nicotinoids end up on the crop. Approx 94% in soil and water pic.twitter.com/mZTOtzWZnU via @DaveGoulson

— Rebecca Lave (@RebeccaLave) July 14, 2014

In its report, the EPA also included highlights from a 2014 survey by the North Central IPM Center which polled researchers who had been studying the seed treatments. Out of 37 completed questionnaires, 74 percent of researchers said that soybean yields either stayed the same or decreased. When asked about the application of foliar pesticide applications, 100 percent of respondents said the sprays (both aerial and ground) either stayed the same or actually increased.

"Chemical companies have been charging higher costs for coated seeds that have failed to deliver benefits. Meanwhile, society at large continues to suffer the economic and environmental consequences of overusing neonicotinoids," added Walker.
READ MORE: Bee studies feel sting of pesticide manufacturers – MPs
In July 2014, the US Fish and Wildlife Service (FWS) announced it will phase out neonicotinoid insecticides in all wildlife refuges nationwide by January 2016, according to CFS.
You can share this story on social media: