Chemical producer lobbies for increase in allowed levels of pesticide linked to 'Beemageddon'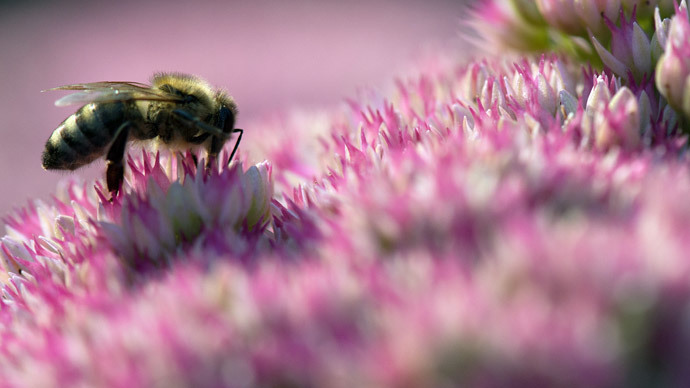 Seed giant Syngenta is asking federal regulators in the United States to raise the allowable levels of a certain pesticide used on select crops despite warnings from critics.
According to a Sept. 5 document published on the Federal Register, the agri-business corporation wants the US Environmental Protection Agency to increase the amount of thiamethoxam that can legally be used on certain crops, raising concerns among pesticide opponents who say a surge in chemical use could cause widespread problems. Syngenta developed the chemical, and the compound was first approved for use in the US in 1999.
Among the requests made by Syngenta earlier this month are that EPA increase the amount of thiamethoxam that can be used on sweet corn crops from 0.1 parts per million (ppm) to 5.0ppm — a 50-fold increase — and raising the allowable amount on hay from wheat by 400 times over. The company is also asking that the EPA make changes to the thiamethoxam tolerance levels concerning alfalfa and barley.
Ann Bryan, a spokeswoman for the company, told E&E News that Syngenta is seeking the changes because it would allow the chemical to be used as a leaf spray and not just a seed treatment, in turn letting farmers douse crops with thiamethoxam in an effort to treat late- to midseason insects.
But as Tiffany Stecker reported for E&E, the chemical in question is part of a family of insecticides that has previously come under attack for being linked to adverse effects on ecosystems of all sorts.
"Neonicotinoid pesticides are one of many factors that scientists say have caused a dramatic decline in pollinators, insects and animals that help crop production by carrying pollen from one plant to another," Stecker wrote, adding that more than half of the managed honeybee colonies in the US have vanished during the last decade, according to the Pollinator Partnership nonprofit group.
"Scientists say neonicotinoids can suppress bees' immune systems, making them more vulnerable to viruses and bacteria. The Fish and Wildlife Service agreed to phase out neonicotinoids on wildlife refuges nationwide starting in January 2016," she added.
As RT reported previously, the European Union has banned neonicotinoids for two years after studies there suggest similarly. A 2012 report found that "sub-lethal exposure to neonicotinoids is likely the main culprit for the occurrence of CCD," or Colony Collapse Disorder — a phenomenon in which workers bees suddenly disappear — and the Ontario Ministry of Environment and the Ministry of Agriculture, Food and Rural Affairs came to similar conclusions last year.
"The information evaluated suggests that planting of corn seeds treated with the nitro-guanidine insecticides clothianidin and/or thiamethoxam contributed to the majority of the bee mortalities that occurred in corn growing regions of Ontario and Quebec inspring 2012," the Canadian agencies found.
Now as Syngenta petitions for an increase in tolerance levels, advocates say the company should reconsider.
"Syngenta claims that foliar applications will be more likely to stick to the leaves of crops, and thus are less risky to pollinators," the Beyond Pesticides group wrote in a recent press release. "[B]ut the fact remains that these chemicals are systemic and persistent, and any amount applied will contaminate soil, and has potential the be expressed in the crop's pollen, nectar and guttation (dew) droplets on which pollinators forage and drink."
Adding to that statement during a recent interview with E&E's Stecker, Aimee Simpson, the police director and staff attorney for Beyond Pesticides, suggested that Syngenta is taking the opposite approach amidst growing concerns surrounding CCD and other issues linked to neonicotinoids like thiamethoxam.
"Instead of figuring ways to stop or reduce the use, it's significantly increasing the amount on forage materials and other crops," Simpson said.
"Growers depend on neonicotinoids and other crop protection products to increase crop productivity," Syngenta's Bryan countered Simpson's remark. "And the scientific evidence clearly shows that bees and other pollinators can coexist safely with modern agricultural technologies like neonicotinoids when product labels are followed."

"Syngenta is committed to biodiversity, including thriving pollinators," Bryan said.
The EPA is accepting comments concerning changes to thiamethoxam tolerance through October 6, 2014.