​Women in top UK boardrooms double in 4 years, but wider progress remains slow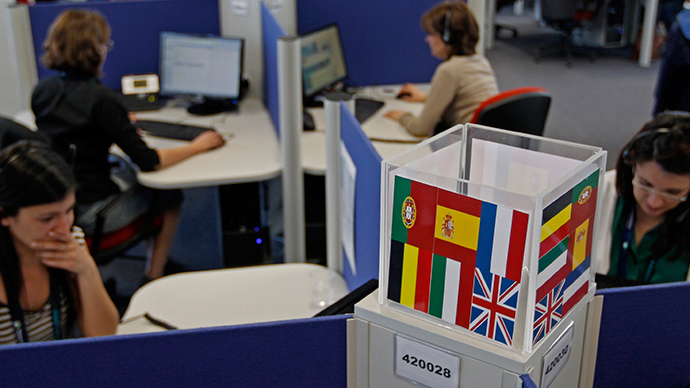 The number of women in UK boardrooms has doubled since 2011 in Britain's 100 largest companies, a new report shows. Despite reaching an all-time high, executive gender equality still has a long way to go.
The latest annual report from former UK trade minister Lord Davies of Abersoch showed the number of women in UK boardrooms almost doubled to 23.5 percent from a mere 12.5 percent in 2011.
There are now 263 female directors in FTSE 100 companies, meaning another 17 women need to be appointed this year to meet Lord Davies's target of 25 percent by 2015.
"We must celebrate this outstanding achievement and the change in culture that is taking hold at the heart of British business. The evidence is irrefutable: boards with a healthy female representation outperform their male-dominated rivals," Business Secretary Vince Cable said in a statement.
READ MORE: International Women's Day marred by failure to close gender pay gap
"I am confident we will reach our target this year, but our work is not complete," he said. "British business must keep its eye on the long game, as we strive to achieve gender parity. We have made good progress in the last four years, and if we continue this trend in the next parliament, I would expect to exceed a third of female representation by 2020."
Cable added: "We know that's where the tipping point lies in influencing decision-making. We must also focus on ensuring women are rising fast enough through the pipeline and taking up executive positions."
The government report was commissioned by the Department for Business, Innovation & Skills.
"The voluntary approach is working – boards are getting fixed," Lord Davies said. "What we have in fact seen taking place is little short of a revolution in boardrooms of FTSE 100 companies."
READ MORE: 'Ethnicity gap widening': Top UK directors overwhelmingly white, study shows
However, in smaller FTSE 250 firms, women account for just 18 percent of board directors. Although this represents a 7.7 percent increase on 2011, progress is much slower.
Just 24 of the FTSE 100's executive directors are women. Moreover, only five of the companies actually have female CEOs: Liv Garfield at Severn Trent, Carolyn McCall at easyJet, Alison Cooper at Imperial Tobacco, Moya Greene at Royal Mail and Véronique Laury at Kingfisher.
The research was published Wednesday alongside the Cranfield University School of Management's Female FTSE Board report.