'Ethnicity gap widening': Top UK directors overwhelmingly white, study shows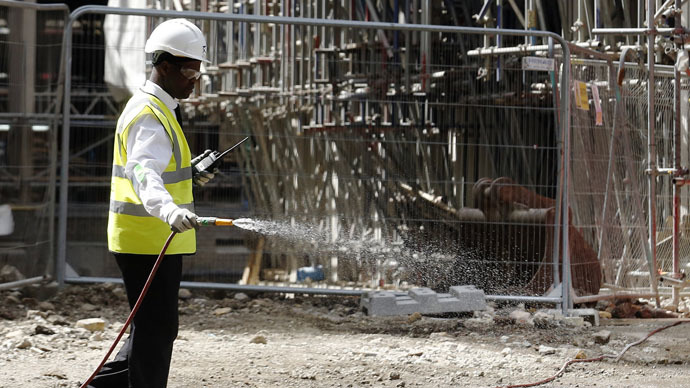 Top management in Britain's biggest companies is becoming less ethnically diverse, despite government attempts to encourage the promotion of minorities to senior posts, according to a recruitment organization.
Growing racial inequality at the top of FTSE 100 companies is demonstrated by the percentage of all-white executive teams, which increased from 65 percent in February to 69 percent this month.
The fall in diversity comes despite Business Secretary Vince Cable's calls on the business community to hire more non-white directors.
Green Park's research found the percentage of all white boards has reached 62 percent, a one-percent increase on February, while the highest positions in FTSE 100 companies are dominated by white people, with just 5 percent of board directors belonging to another race.
According to the Office of National Statistics (ONS), 14 percent of the UK populace is non-white.
READ MORE:Metropolitan police destroyed evidence of racial and sexual discrimination
In an attempt to tackle the issue, Cable launched the 2020 Campaign on Monday, which aims for every FTSE 100 company boardroom to be ethnically diverse by 2020. Broadcaster Trevor Philipps and comedian Lenny Henry have helped to develop Cable's campaign.
Responding to Green Park's findings, Rajinder Kaur Mann OBE, Chief Executive of the Network for Black Professionals, told RT: "It is a tragedy that despite the drive for diversity that we still have under representation at the top of FTSE 100 companies and on Boards."
"The lack of diversity can only be addressed through targeted interventions, training and a clear strategic direction from Government. The use of base line data, rigorous monitoring and evaluation along with clearly defined targets and resources to implement the strategy is the key to diversity," she added.
Sandra Kerr of Business in the Community (BITC), a charity which promotes fairer policies within businesses, is not surprised by the news. BITC believe this growing inequality is part of a wider trend among businesses. Speaking to RT, Kerr said their research found "the leadership ethnicity gap had widened between 2007 and 2012, so whilst [the findings are] extremely frustrating it's not unexpected."
According to the BITC study published in June, the share of ethnic minorities in top management increased "by just 0.5 percent between 2007 and 2012," which in real terms meant "a drop of 21, 645" people. Kerr warned in the report's press release that "the gap must not be allowed to widen further, but without action, little will change."
The BITC spokeswoman told RT the report also demonstrates that while more minorities "are entering the starter rung of management progression," unless the "processes that feed into senior progression" are monitored then "inequality is likely to continue."
She added that following the report, the government's Financial Reporting Council (FRC) responded positively by changing the UK Corporate Governance Code to include the term "gender and race" in the preface to the 2014 code. Kerr hopes this move "is acknowledged by the emerging political party after the 2015 election."
While "change is possible," it requires "senior commitment and fundamental change at [an] operational level," the BITC spokeswoman said. This fundamental change includes offering programs such as "unconscious bias training for recruitment panels" and "dedicated progression programs for women" and minorities.
READ MORE:Metropolitan Police to 'reflect diversity' by recruiting only from London
The government has also faced criticism for failing to ensure women are fairly represented on the boards of FTSE 100 companies. While they all have at least one woman on their boards, men still make up 77 percent of board members.
Speaking on the Andrew Marr show on Sunday, Cable admitted the number of FTSE 100 female leaders is "pitifully small," yet he argued we should not "underestimate what we've achieved" without the use of "quotas."
The progress made so far has been the result of "persuasion," he said.
You can share this story on social media: