​'Cheapskate bosses': Firms failing to pay legal minimum wage named & shamed
Published time: 24 Mar, 2015 16:51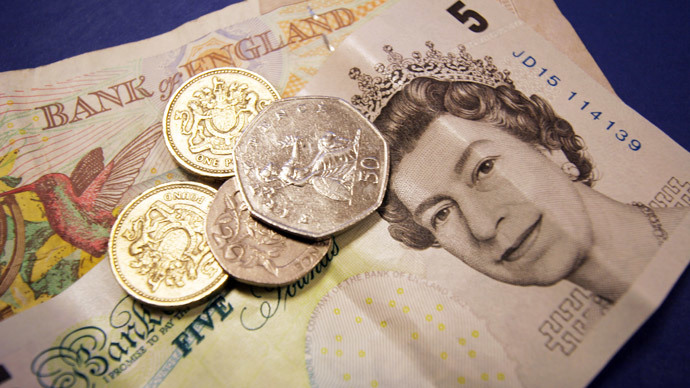 Nearly 50 companies have been named and shamed by the British government for failing to offer their employees the legal minimum wage. The firms in question span Britain's fashion, publishing, retail and health and fitness sectors.
Following the introduction of new rules in 2013, over 200 firms have been officially "named and shamed" for neglecting to pay workers the national minimum wage. The companies in question racked up fines of almost £250,000 for paying their staff a total of £635,000 less than is legally required during this period.
The most recent cases were uncovered following an investigation by Her Majesty's Revenue and Customs (HMRC).
Clothing brand French Connection in London was found to have shafted 367 employees by £16,400, while salon chain Toni & Guy in Wilmslow, Cheshire, is believed to owe £1,031 to one employee.
Call & Deliver, which trades as Pizza Hut in Heckmondwike, Yorkshire, is believed to owe £163 to nine workers, and 99p Stores in Northampton allegedly owe £633 to 11 different workers.
Britain's Minister of State for Business and Enterprise, Jo Swinson, said firms' failure to pay staff the legal minimum wage was inexcusable.
"The government is protecting workers by cracking down on employers who ignore minimum wage rules," she told The Guardian.
"In addition to naming and shaming, we've increased the penalty fines and boosted the resources available to investigate noncompliance."
Francis O'Grady, General Secretary of the Trade Union Congress (TUC), praised the government for clamping down on "cheapskate bosses" who are unprepared to pay the minimum wage.
She said much remains to be done, however, as many other employers "are still getting away with it."
READ MORE: 8 mn Brits living below minimum income standards – study
O'Grady called upon the government to invest in extra inspectors so that no "minimum wage cheat" goes undetected.
Commenting on HMRC's findings, a spokesperson for Toni & Guy said paying staff less than the minimum wage was not company policy.
"As a company with over 400 salons globally under its brand umbrella, we do not condone any kind of mishandling of staff wages. Once made aware, the franchisee resolved the issue swiftly," he told The Guardian.
A spokesman for Pizza Hut said it was investigating the allegations.
"We take the welfare of our employees very seriously and are investigating the allegations that have been brought against a franchisee of Pizza Hut Delivery. As this is ongoing we're unable to comment further," he said.
However, East London's Newham Council and Britain's GMB union say the fines are miniscule compared to the real level of underpayment. They estimate workers lose over £500 million a year across the nation as a result of firms paying below the national minimum wage.
Almost 20 percent of residents in the locale earn less than the minimum wage, averaging at £2,200 per worker, the report found.
Newham Mayor Sir Robin Wales told The Guardian that the report illustrates the fact that "central government" has been "woefully inadequate" at protecting workers from exploitative firms who are in many cases "willfully breaking the law."
He added local authorities are better placed to uncover rogue firms because they "have the interests of their residents at heart."
"We're already aware of companies that flout licensing, planning, trading standards and waste rules and are able to take action," he said.
"With additional powers to tackle underpayment of [national minimum wage], councils could make a substantial difference to residents' lives."
READ MORE: Minimum wage increase 'won't end in-work poverty' – trade union boss
Last week, Prime Minister David Cameron and Deputy PM Nick Clegg announced a 20 pence, or 3 percent rise, in the minimum wage. Even this modest rise represents the biggest real-term increase since 2008. However, trade unions said the move will fail to improve circumstances for many of Britain's working poor.
The majority of high street retail chains in Britain refuse to pay their workers the national living wage, a report by the Independent revealed earlier this month.
The living wage is set at £9.15 an hour in London and £7.85 an hour in the rest of the UK. It represents what the government says is the minimum pay needed to lead a decent standard of life.
A sobering Credit Suisse report last October revealed inequality is rife in Britain. The research found Britain was the only state in the G7 group of leading economies where inequality had risen in the past 100 years.
The report found the increase was accompanied by a boom in the number of wealthy and super-wealthy people in the UK.
Britain is now home to 44 dollar billionaires, compared with a mere eight at the start of the 21st century, according to Credit Suisse. Meanwhile, those with a net worth of at least $50 million (£31 million) has almost quadrupled to 4,660 over the same period.
Critics warn, however, low and middle-income earners have been hampered severely by falling real incomes caused by year-upon-year rising household costs and static wages.