Pedophilia in Britain 'woven into the fabric of society' – Theresa May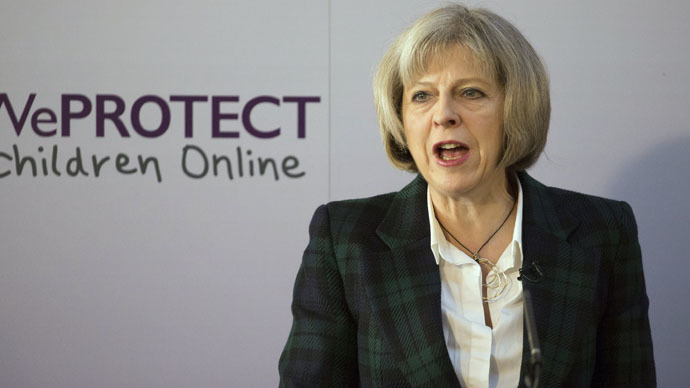 As the UK has launched a new-judge led inquiry panel to investigate a pedophile ring operated in 1980s, the Home Secretary warns the allegations are just a "tip of an iceberg" and the problem is "woven, covertly, into the fabric of our society."
Following a spate of allegations concerning the abuse of children by adults, many of who abused their positions of power and status, Home Secretary Theresa May said Britons still do not appreciate the "true scale of that abuse."
Writing in the Telegraph, May warned that the investigation into predators of children will "lead into our schools and hospitals, our churches, our youth clubs and many other institutions that should have been places of safety…"
Following Thursday's announcement of a four-person panel to investigate the criminal activities against minors, May said Justice Lowell Goddard would be empowered to "compel witnesses and the removal of any cut-off date from the Terms of Reference" allowing Goddard to track the evidence "wherever it takes her."
The original inquiry, which was delayed after two chairs were forced to stand down, was set up to investigate allegations of a pedophile sex ring made by the now deceased Conservative MP Geoffrey Dickens, operating in Westminster during the 1980s.
READ MORE: Anonymous asks activists to help fight pedophiles in 'Operation DeathEaters'
May said she had personally met with young survivors and understood that their lives would be so much harder due to the "pain and distrust that had become a part of them."
May wrote: "In my discussions with older victims and survivors and their representatives, I began to realize how abuse is woven, covertly, into the fabric of our society."
She then relayed a meeting she had with one of the victims of past abuse, who told her: "Get this inquiry right and it will be like a stick of Blackpool rock. You will see abuse going through every level of society."
"I fear she is right. I have said before and I shall say again, that what we have seen so far is only the tip of the iceberg," May said.
Aside from public institutions, the probe may also lead to the highest levels of British society.
Following allegations that British celebrity and former BBC presenter Jimmy Savile had violated hundreds of children and adults over the span of his lengthy career ("Giving Victims a Voice" organization reported that over 400 people had filed complaints against Savile), allegations of a Westminster pedophile ring possibly involving many well-known MPs have surfaced.
READ MORE: At least 40 UK politicians complicit in alleged Westminster 'pedophile ring' – report
In July 2014 Peter Mckelvie, a whistleblower who kicked off UK police pedophile probe Operation Fernbridge, disclosed a list compiled by police of current and former politicians suspected of participating in the child sex abuse.
He revealed that as many as 40 British MPs and peers either knew about or took part in the Westminster "pedophile ring."
Mckelvie, who spent more than 20 years compiling evidence of alleged child abuse by people in authority claimed there was enough evidence to arrest at least one senior politician, the Daily Telegraph reported in July 2014.
"I truly believe it represents a once-in-a-generation opportunity and that once its work is done, we will never look at society in the same way again," May wrote.
READ MORE: Cover up? Review of Home Office handling of Westminster child sex allegations slammed
The Home Secretary said: "Where there is evidence a person has abused their position – no matter how high or how low that position – it will be passed to the police to investigate. So if there has been a cover-up, we will uncover it."
Yet, she questions why some people don't understand the need for an inquiry. "What's the point?" they say. "It's so long ago and we know it all now. Leave it in the past where it belongs."
Meanwhile, hundreds of registered sex offenders have gone missing in the UK.
A Freedom of Information request by the Press Association has revealed that the whereabouts of 396 convicted offenders are unknown to police. Some have been at large for over a decade.
You can share this story on social media: