'Dirty war​': MI5 accused of complicity in historical NI child sex abuse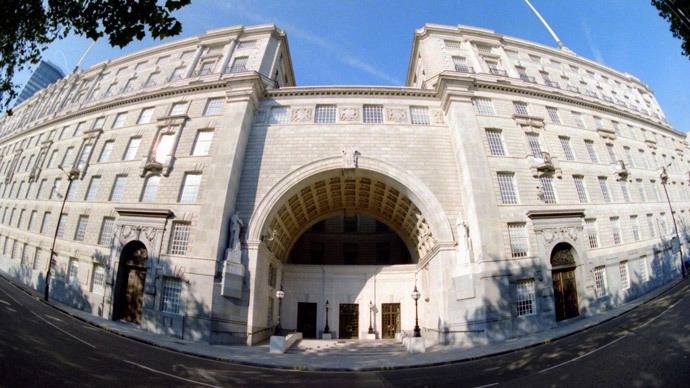 British intelligence agency MI5 faces allegations it covered up child sex abuse at a care home in east Belfast for decades to protect its intelligence operations, Northern Ireland's high court will hear on Tuesday.
Victims of child sex abuse which took place in Kincora Boys' Home throughout the 1970s are pursuing a full independent inquiry into the matter.
If successful, the victims' legal challenge will result in a robust inquiry that compels key witnesses to testify. MI5 would also be forced to supply investigators with vital documents.
The Belfast-based court case is the first to address the British state's alleged links to the notorious care home in the 1970s. It begins on Tuesday, and is expected to continue throughout the week.
"One of the biggest scandals of our time" says Amnesty; MI5 & claims of complicity in sexual abuse of children http://t.co/59EPHQiUUp

— vikram dodd (@VikramDodd) February 15, 2015
Former Kincora residents are calling for a full, independent inquiry into the British state's collusion in the abuse, similar to the inquiry set up to investigate Westminster child abuse, chaired by judge Lowell Goddard.
Goddard was recently appointed by Home Secretary Theresa May as the new head of Britain's Independent Inquiry into Child Sexual Abuse. May has conceded allegations of state involvement in the pedophile ring that infiltrated Kincora Boys' Home should be investigated.
She agreed in January that Britain's Official Secrets Act should be waived to allow ex-military intelligence officers to come forward with evidence.
'One of the biggest scandals of our age'
Amnesty International describes the abuse at Kincora as "one of the biggest scandals of our age." The rights group supports victims' demands for an independent inquiry with full powers.
Patrick Corrigan, Amnesty's Northern Ireland Program Director, told RT:"The allegations could scarcely be more serious – that MI5 used a pedophile ring at the boys' home for its own intelligence-gathering purposes and then blocked police investigations which could have ended the abuse years before it was finally stopped.
"If true, that means that the UK security services used vulnerable boys as nothing more than sexual bait in a blackmail trap. Some people talk about a 'dirty war' in Northern Ireland – but these allegations are stomach-churning and must be fully investigated with an inquiry with the full-powers to do so.
"If proven, those responsible must be held accountable before the law – whether perpetrators of abuse or those who perpetuated that abuse by allowing it continue for years. That would mean prosecutions and the prospect of prison to follow police investigations, and should also mean compensation for the victims."
MI5 accused of covering up sexual abuse at boys' home - via @guardianhttp://t.co/R82HDyke2T#Kincora#CSAinquirypic.twitter.com/TEsqGPcVDS

— Amnesty Int'l NI (@AmnestyNI) February 16, 2015
Lawyers representing the victims will argue that MI5 personnel had knowledge of the child abuse at Kincora, allowed it to continue, and were complicit in protecting those involved from investigation or prosecution, according to documents submitted to Belfast's high court.
One alleged victim, Gary Hoy, entered Kincora with his little brother in the 1970s. He claims the abuse he experienced there severely damaged him in later life.
In a sworn affidavit seen by the Guardian, he says, "I find it heart-wrenching that there were security men [who] could have been behind the abuse or involved in it … Because they were in positions of authority or supposed to be protecting the state they get away with it."
Lawyers for Hoy will argue he suffered abuse at the care home, which is defined under article 3 of the European Convention on Human Rights (ECHR) as torture.
'MI5 cover-up'
Colin Wallace, a former military information officer based in Northern Ireland, said British MPs had been deceived about child abuse at Kincora Boys' Home.
He told the Guardian there is undeniable evidence UK government agencies' cover-up of the abuse was concealed from Britain's Parliament.
However, victims' demand for an inquiry with full powers was backed last week by Britain's Home Affairs Select Committee.
The committee recommended that Kincora be included in the ongoing child abuse inquiry ordered by Westminster.
Amnesty's Northern Ireland Program Director, Patrick Corrigan, said the committee's recommendation was bad news for those who want Kincora's murky past to remain secret.
"Nothing less than the inclusion of the Kincora home in this inquiry is liable to see the truth finally arrived at and justice finally delivered," he told RT.
Should Kincora be included in the child abuse inquiry? Should MI5 officers be obliged to testify? Yes and Yes. http://t.co/LdAGf3J7i2

— tom_watson (@tom_watson) February 15, 2015
A spokesperson for the Home Office, the government department responsible for MI5, said the government is collaborating fully with all "investigations into allegations" relating to the Kincora Boys' Home.
"It is not appropriate to comment further while these investigations are under way," the spokesperson told the Guardian.
Three senior staff at Kincora were imprisoned in 1981 for abusing 11 boys in their care. But it is feared the facility hosted many more abusers and victims between 1960 and 1980.
To this day, allegations prevail that a pedophile ring at the children's home was linked directly to the British intelligence services.
Two ex-military intelligence officers insist MI5 blocked police inquiries into child abuse that occurred there in the 1970s.
One officer says MI5 was complicit in the abuse that took place, while another claims he reported it to the security services, but no action was pursued.
You can share this story on social media: