​'Expensive, ineffective & unjust': MPs urge end to indefinite migrant detention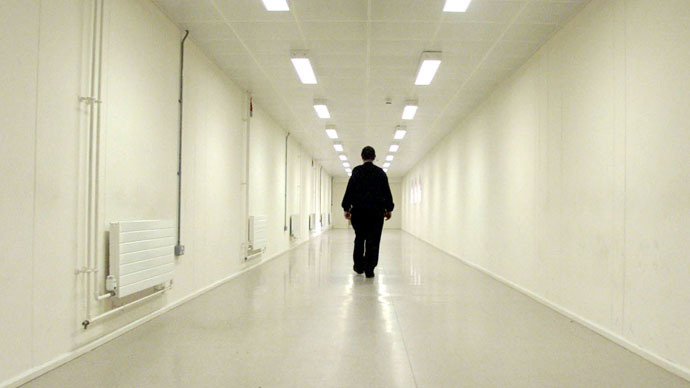 MPs have called for an end to the indefinite detention of migrants, citing the human cost to the inmates' mental health and unnecessary public expense.
In a damning report, MPs said the Home Office is failing to follow its own guidelines, which advise detention should be used sparingly. Some inmates have been locked up for years.
Members of the cross-party inquiry say they are shocked by the horrific testimonies of current and former inmates, some of which described suicide attempts and sexual harassment.
The UK is the only country in the EU that doesn't have an upper time limit on detention, the report says.
The call to end the indefinite detention of migrants comes as Channel 4 aired an undercover investigation into Yarl's Wood immigration removal center that shows guards referring to inmates as "animals" and "beasties."
MPs condemned the current system of detention as "expensive, ineffective and unjust."
The panel, which included a former cabinet minister, a former chief inspector of prisons, and a former law Lord, said indefinite detention had "significant mental health costs for detainees, as well as considerable financial costs to the taxpayer."
READ MORE: Yarl's Wood asylum seekers 'sexually abused by staff' and 'denied privacy' – charity
Migrants and asylum seekers should be held for no longer than 28 days and even this should be an "absolute last resort," the inquiry recommended.
The All-Party Parliamentary Group (APPG) on Refugees and the APPG on Migration said the government should explore alternatives, such as allowing individuals to live in the community while their cases are being considered.
The group also recommended pregnant women and victims of rape and sexual violence should not be detained. Also, those with mental health problems should only be held under very exceptional circumstances.
They said screening processes should also be improved to detect victims of human trafficking.
MPs are said to have gasped in horror when they heard testimonies over speakerphone from current inmates in detention centers.
One detainee – referred to as 'A' – said they had been held for 99 days.
A said: "The things that I've been through since I've been in detention till now… it's getting worse every day."
"Because [of] the healthcare facilities, I don't know what's going to happen and it's the worst thing I've ever been through."
A, who suffers from diabetes and mental health problems, described how they had to wait 10 weeks for a medical appointment and felt rushed when they were finally able to see someone.
Former detainees also gave evidence, one of whom – J – offered a harrowing account of what it is like to be on suicide watch in Yarl's Wood.
J, who spent five months in detention, described how "anybody who is [on] suicide watch has sexual harassment in Yarl's Wood, because those male guards they sit in there watching you at night, sleeping and being naked. You can hear them talking it."
READ MORE: Serco turned 'blind eye' to corruption in UK immigration jail, court hears
The group's findings coincide with the airing of a Channel 4 documentary on Monday, in which undercover journalists filmed guards at Yarl's Wood removal center showing contempt for detainees.
The guards, who are employed by the contractor Serco, referred to the mostly female inmates as "animals," "beasties" and "bitches."
One guard was caught saying: "Head-butt the bitch. I'd beat her up."
Another guard commented: "They're animals. They're beasties. They're all animals. Caged animals. Take a stick with you and beat them up. Right?"
One officer was recording saying: "They are all slashing their wrists apparently. Let them slash their wrists."
"It's attention seeking," another officer says.
Serco, which is sub-contracted by the Home Office to run the detention center, said it has asked barrister Kate Lampard to conduct an independent review into the company's work at Yarl's Wood.
Home of Commons Debate
Labour MP Keith Vaz, who is Chair of the Home Affairs Committee, posed an urgent question in the House of Commons on Tuesday regarding Channel 4's revelations at Yale Wood removal center.
Vaz said: "Yale Wood is not a prison, but an immigration center which has a duty to protect the most vulnerable."
"Instead of being protected, detainees are verbally abused and poorly treated. This is not the first time that Yale Wood has been the subject of parliamentary criticism."
Home Office Minister Karen Bradley said the government was taking the allegations seriously.
"Be under no illusions, this government is breathing down the neck of Serco," she added.
Shadow Home Secretary Yvette Cooper attacked the government for its continued support of Serco contracts.
Home Secretary Theresa May renewed the company's contract at Yale Wood for another eight years last November despite accusations of abuse against guards, she said.
Bradley defended the government's decision, saying previous reports found "no evidence" of anyone at the detention center being at risk.
Other MPs criticized the whole system of allowing immigration centers to be run by private companies.
Lisa Mandy MP said: "A system run for profit and targets leaves very little room for compassion."
"It's time we got a grip of this system," she added.
Barry Sheerman MP also attacked the use of private corporations, calling the issue a "stain on our country's tradition of human rights."
You can share this story on social media: