Serco turned 'blind eye' to corruption in UK immigration jail, court hears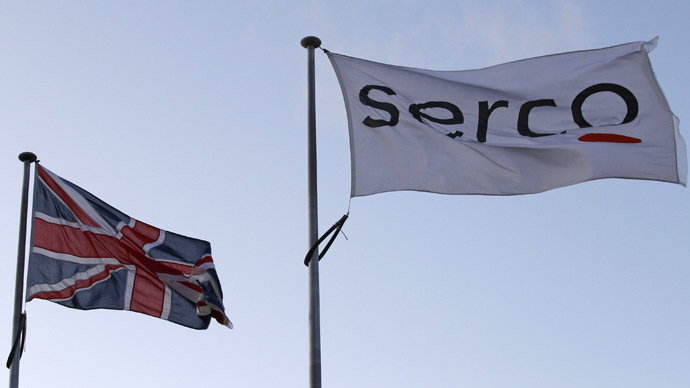 A whistleblower who worked at a Serco-run immigration detention center alleges the firm turned a blind eye to corruption in the jail, despite evidence staff were smuggling hard drugs into the facility and making a handsome profit in the process.
Former detention custody officer Mark Blake stands accused of conspiring to commit misconduct when he worked at Colnbrook immigration removal center.
However, he maintains his innocence – insisting that stories he leaked to the Sun newspaper were justified and in the public interest.
The ex-Colebrook officer's case began at the Old Bailey in central London on Wednesday. Sun journalist Tom Wells, who also faces allegations of misconduct, is also on trial.
During the proceedings, it emerged Blake's concerns about practices in Colebrook prompted him to forge a connection with Wells.
The court heard Blake subsequently leaked a number of controversial stories about Colnbrook to the Sun reporter, and was offered almost £8,000 in return.
The tipoffs evolved into 10 separate stories in the tabloid newspaper.
Serco' immigration centre lavish detainees with things to keep them quiet to avoid paying fines if disorder broke-out http://t.co/4dnk1sflN4

— Rabih Chaaban (@ChaabanRabih) February 26, 2015
Prosecutor Jonathon Rees QC, who is representing Serco, told the court Blake had received training at Colnbrook about not speaking with the press.
However, when the detention custody officer was arrested on suspicion of misconduct in March 2013, he told police his actions had been entirely in the "public interest."
Blake said at the time he reached out to the Sun because he knew what was happening at the detention center was illegal. He insisted he did not expect any form of payment.
Following his arrest, he informed officers of "widespread drug abuse" and violence between inmates. The ex-Colnbrook employee maintained Serco was aware prison staff were smuggling hard drugs into the facility, and that some had bought luxury cars from the proceeds.
The defendant also said female prison staff engaged in sexual activity with inmates. He added when the transgressions were discovered by Serco, the firm "merely turned a blind eye and marched the officers off the premises."
inept corrupt SERCO (which makes millions from AUS govt) is shocking but instead the whistleblower is on trial. http://t.co/eeeC9NO6X9

— Dame ODyne (@AnnieOdyne) February 25, 2015
Throughout the proceedings, it emerged Blake was told to "man up" and focus on his job when he raised concerns about the detention center. Blake also told police that Serco bribed inmates with coveted items to silence them and avoid potential financial penalties, jurors heard.
Rees told the jury that Serco does not accept Blake's claim that he raised concerns internally before approaching the Sun.
Blake, 43, from Slough, denies all allegations of misconduct in public office. Sun reporter Tom Wells, who lives in southeast London, also denies allegations of misconduct.
In January, another Serco immigration detention center in Bedfordshire, southern England came under fire.
READ MORE: Yarl's Wood asylum seekers 'sexually abused by staff' and 'denied privacy' – charity
A damning report, conducted by Women for Refugee Women, found that female immigrants detained there are often denied privacy and dignity.
The refugee charity said female asylum seekers held at the facility are routinely degraded by male staff, who monitor them while they are naked.
It also uncovered claims of sexual misconduct carried out by Yarl's Wood staff.
Nevertheless, the Home Office has maintained full faith in outsourcing giant Serco.
The firm was recently offered a £70 million contract by the Home Office to manage Yarl's Wood for a further eight years.
Thousands of people are currently being detained in high security immigration jails across Britain. Many are vulnerable asylum seekers whose requests for UK residency have been rejected or are in process.
They are often deeply traumatized by difficult circumstances in their homeland and fearful they may be forcibly returned.
You can share this story on social media: