N Ireland will face same-sex marriage challenge – Amnesty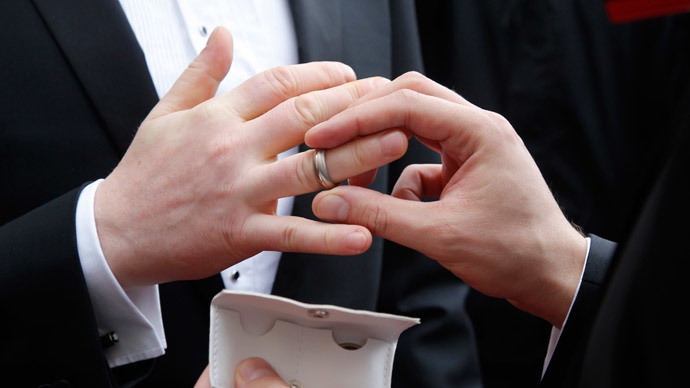 Human rights group Amnesty International say they expect the ban on same-sex marriage in Northern Ireland to be challenged in court in 2015.
Following the first same-sex marriages in Scotland earlier this month, Patrick Corrigan, head of Amnesty International's Northern Ireland program, said the organization will "look forward to seeing that discrimination being challenged" in the new year.
"We have long predicted that, should Northern Ireland's politicians fail in their duty to end such discrimination, then gay people will resort to the legal system to have their human rights as equal citizens vindicated. We expect that to happen in 2015," he said.
Corrigan also said the continued ban on same-sex marriage in the six counties of Northern Ireland could conflict with international and EU law, which has allowed gay and lesbian couples to wed in England and Wales.
READ MORE:Gay marriage cake controversy - Christian bakery faces legal action
Further pressure will be added as the Republic of Ireland is expected to pass a referendum supporting gay marriage.
Northern Ireland has remained staunchly conservative on sexual issues including abortion and homosexuality.
Democratic Unionist councilor Maurice Mills said in 2005 that Hurricane Katrina, which killed 1,300 people, was God's revenge for New Orleans hosting the Southern Decadence festival.
READ MORE:Britain's House of Commons votes to legalize gay marriage in England, Wales
"The media failed to report that the hurricane occurred just two days prior to the annual homosexual event called the Southern Decadence festival which the previous year had attracted an estimated 125,000 people," he said.
"Surely this is a warning to nations where such wickedness is increasingly promoted and practiced."
Despite pressure from LGBT rights groups, the councilor has not retracted his comments, while the Democratic Unionist party has failed to condemn them.