Britain's House of Commons votes to legalize gay marriage in England, Wales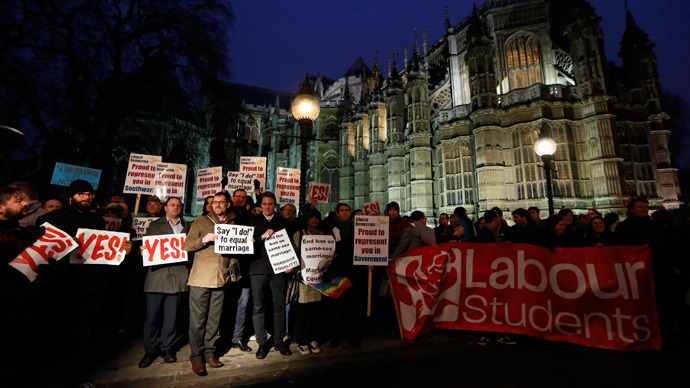 Britain's House of Commons has voted to legalize gay marriage in England and Wales. British MPs approved the Marriage (Same Sex Couples) Bill by 366 votes to 161.
The bill will move onto the House of Lords, where it is expected to face opposition.

Several Tory MPs spoke out against the bill, which has caused tensions within the party. The Labour and Liberal Democrat leaderships backed the bill.
The latest YouGov poll for the Sunday Times found that 54% of Britons support "changing the law to allow same-sex couples to marry," with over 53,000 civil partnership ceremonies have been carried out since their introduction in December 2005.

Conversely, only 45% of Tory supporters are in favor of changing the law and 48% oppose it, the survey showed.

British Prime Minister David Cameron hopes the bill will soon be enacted into law, with the first marriage ceremonies taking place by next summer.
Cameron is eager to force the bill's passage, in attempts to display his party's liberal and progressive side, particularly following spending cuts and a lurch to the right on immigration policy, which a number of parties are pursuing following a recent surge in the UK Independence Party's popularity.

Grassroots conservatives have voiced opposition at Cameron and the bill, with conservative co-chairman Lord Feldman reportedly calling activists "mad, swivel-eyed loons."
Britain isn't the only country dealing with tensions surrounding equal rights for homosexuals. Earlier Tuesday, a French writer committed suicide in Notre Dame Cathedral after speaking out against France's recent legalization of gay marriage and adoption. Thousands of protesters took to the streets in the lead-up to the bill's approval.

Just four days ago, Orthodox anti-gay activists in Georgia broke through police cordons to reach gay rights advocates on the International Day Against Homophobia. Twenty-eight people were injured in the clashes.

Last week, Russian authorities turned down requests to hold a gay pride parade on May 25 and a gay rights rally on May 26 in Moscow.

You can share this story on social media: