At least 12 arrested as French anti-gay marriage protesters clash with police (VIDEO)
Anti-gay marriage demonstrations in France turned violent overnight as opponents of the 'marriage for all' law protested Tuesday's introduction of same-sex marriage. Clashes flared as police retaliated with tear gas against the hostile crowd.
Despite requests by organizers for marchers to disperse peacefully, a hardcore group of about 500 refused to leave the Invalides memorial and museum complex, near the National Assembly in Paris.

Masked demonstrators threw glass bottles, metal bars, and cans at police, and riot units retaliated with force to suppress the crowd. One officer was hospitalized with a head injury after being hit by a brick.

"The clashes were extremely violent," an unnamed officer said, according to the Local.

At least 12 protesters were arrested. Interior Minister Manuel Valls later said those arrested were linked to far-right organizations. After scuffling with police, demonstrators turned their ire on nearby journalists, shouting swear-words at them.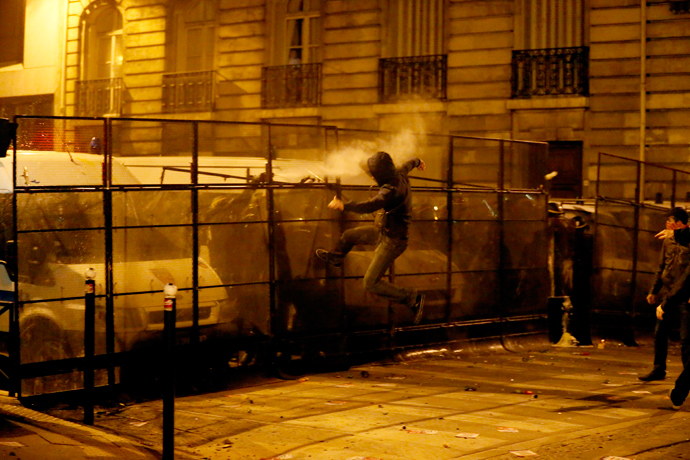 At one point, a mob of masked protesters chased a group of journalists down the street, and a photographer from AFP was sprayed with tear gas, the Local reported.

The clashes were predicted by critics of the bill, who warned it would incite the opposition.

The 'marriage for all' law passed by the predominantly Socialist Parliament on Tuesday is one of France's biggest social reforms in the last three decades, allowing same-sex couples to both marry and adopt children.

The bill passed with 331 votes for and 225 against, with French Justice Minister Christiane Taubira, saying that same-sex marriages could happen as early as June. France became the 14th country in the world to legalize the practice, shortly after New Zealand.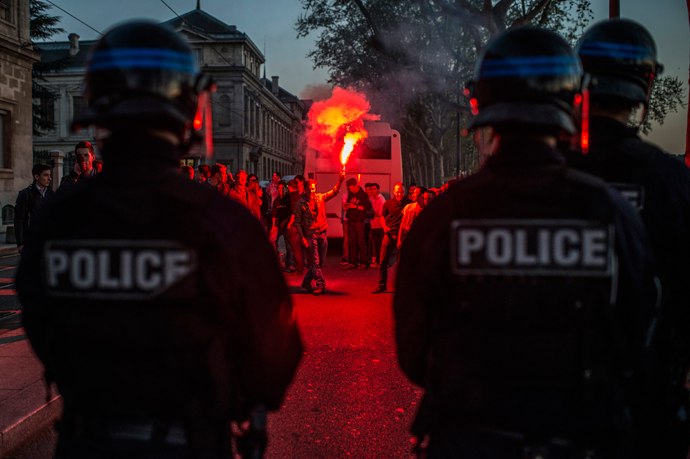 "Those protesting today will find themselves moved by the joy of the newlyweds," Taubira told Parliament.
However, the proposal has not enjoyed as much widespread support in France as in New Zealand. Within the last two weeks, France's top Catholic Bishop, Cardinal Andre Vingt-Trois, told a collective of French bishops that the legalization of same-sex marriage risked inciting violence, a prophecy that was quickly fulfilled.

"You are adding a crisis to a crisis. You are stirring up tensions and are lighting the fuse of homophobia," opposition member Herve Mariton said ahead of the vote, according to Reuters.

Last Thursday, police reported a rise in homophobic assaults against both property and people, prompting French President Francois Hollande's government to call for an end to the violence and issue threats of severe punishment for such crimes.


You can share this story on social media: