Thousands rally against France's gay marriage bill before parliament reading (PHOTOS)
Thousands of protesters have taken to streets of Paris in a last-ditch attempt to stop France legalizing same-sex marriage, as parliament's approval of the bill, which will also allow child adoption by gay couples, looms.
Authorities fear Sunday's rally could turn violent as tensions in France over the so-called "marriage for all" bill, which is expected to get final approval by the parliament on April 23, reach boiling point. Security forces in the French capital are on high alert.  
Organizers of the march said that up to 50,000 people could turn out to protest against the controversial legislation. Supporters of the reform, backed by Socialist President Francois Hollande, also called for a counter demonstration to take place on Sunday.
According to opinion polls, most French people support same-sex marriage. However, the majority is against allowing adoption by gay couples.
"We've been to all the protests," a rally participant - 32-year-old mother Camille – said. "We're here for children's rights. We don't want the state to be complicit in a child being deprived of a father or a mother," she added, as cited by AFP.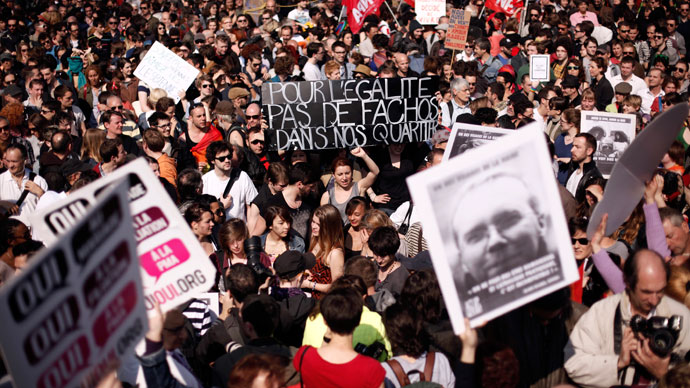 The law that will make France the 14th state to legalize same-sex marriage has split the society and sparked protests – sometimes turning violent- both for and against the bill. Rights groups also reported a rise in homophobic assaults in France, with two gay bars being targeted.
President Hollande urged opponents of the law to stop violence.
"I cannot accept ... homophobic acts and violence against property in the midst of protests, or any defiance of law enforcement officials," he said earlier in the week. "[Democratic] procedures must be respected, sensibilities must be respected, and everyone must be heard ... But the law and parliament also need to be respected," he added, as quoted by Reuters.
In parliament's lower house, the National Assembly, the final debate on the legislation was marred by unprecedented scuffles between lawmakers of Friday.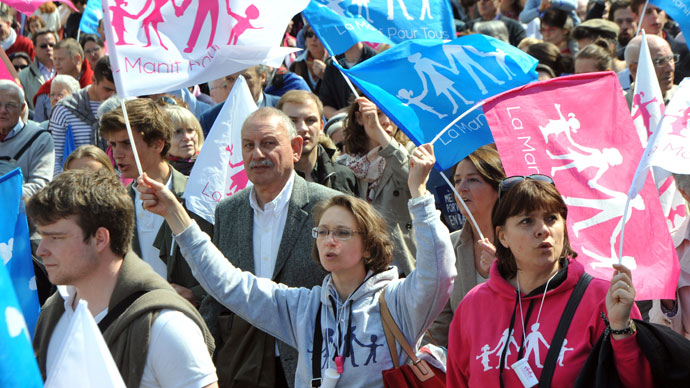 On Saturday, several hundred supporters of the bill rallied in the city of Nantes to denounce what they said was a climate of fear created by a "fascist" wave of homophobia. The pro-bill marches have not proven as numerous been as those of its detractors, with supporters hoping that anti-gay marriage sentiment will depreciate once the bill becomes law.
"I think we will quickly move on to something else," said Christophe Girard, the gay Socialist mayor of Paris's 4th district, cited Canadian Ottawa Citizen news outlet. "The demand for gay marriage and adoption is the same for almost all advanced democracies," he added. The official – who noted that he was going to marry his boyfriend once the law is adopted- has proven vocal on the issue, but stresses its an issue that must be ruled on by legislators. "I organised 10 debates in my town hall, but after that parliament decides, not the street or a handful of groups," Girard added.
In March, over 300,000 people took to the streets of the French capital to say 'no' to the controversial bill. It was noted as one of the largest rallies in Paris since the 1984 protest against education reform.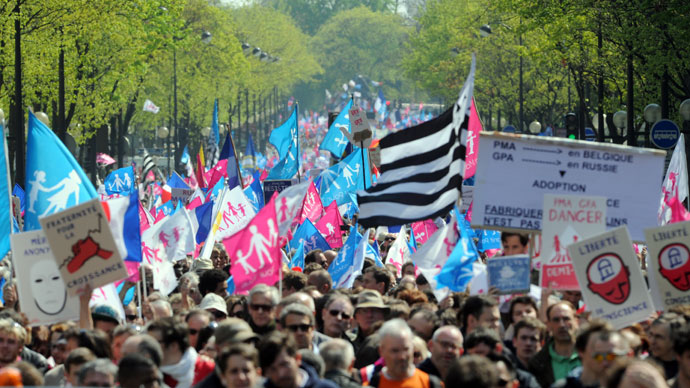 You can share this story on social media: