UKIP Councillor blames gay marriage for Britain's 'storms and floods'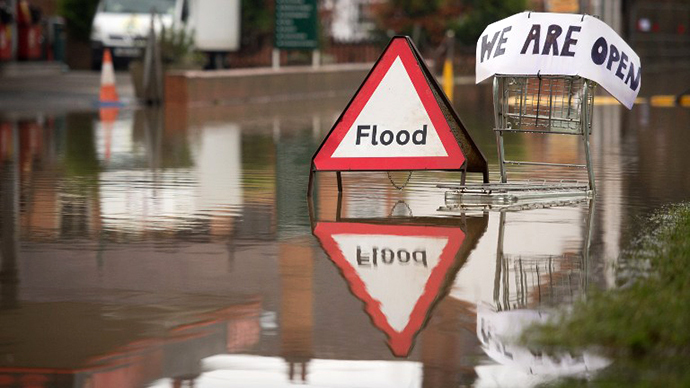 The wrath of God has been unleashed on Britain after the government's decision to legalize gay marriage, claimed a UK Independence Party member in an open letter published by an Oxfordshire newspaper.
UKIP Councillor from Oxfordshire, David Silvester sent a commentary to the Henley Standard, in which he blamed the recent heavy floods across Britain on the government and particularly the Prime Minister who has acted "arrogantly against the Gospel."

Since the UK legalized gay marriage last year, the nation has been "beset by serious storms and floods," the councillor wrote, adding that it is Cameron's fault that the nation is distressed by bad weather.

Quoting the Bible, the politician went on to say that "no man or men, however powerful, can mess with Almighty God with impunity and get away with it" and that "a Christian nation that abandons its faith and acts contrary to the Gospel will be beset by natural disasters."

In the publication, Silvester – who left the Conservative party in protest over the issue – states that he warned the Prime Minister that "disasters would accompany the passage of his same sex marriage bill."

"Now, even as Cameron sheds crocodile tears on behalf of destitute flooded homeowners, playing at advocate against the very local councils he has made cash-strapped, it is his fault that large swathes of the nation have been afflicted by storms and floods."
In fact it's so unbelievable that here's the meat of it too! pic.twitter.com/7nKleh6HYA

— Tamsin Borlase (@Bosleypatch) January 17, 2014

A UKIP spokeswoman said Silvester's views were "not the party's belief" but said that any person in the UK was entitled to state his or her personal opinions.

"That is what makes the United Kingdom such a wonderful, proud, diverse and free country," UKIP replied to Huffington Post.

A Conservative District Councillor for Henley on Thames told Huffington Post that his colleague's comments resembled Stone Age opinion.

"Playing 'spot the wrath' with pages of the Henley Standard is absurd," William Hall said. "Many people around here appreciate a sound stance on cutting taxes and getting out of the EU but once you scratch the surface UKIP is a party that would take us back to the Stone Age."

Legislation to allow same-sex marriage in England and Wales was passed in parliament in July 2013 and is expected to be brought into force on 29 March 2014.
You can share this story on social media: