Blair re-spin: British ex-PM retracts 'misinterpreted' Miliband comments, backs Labour leader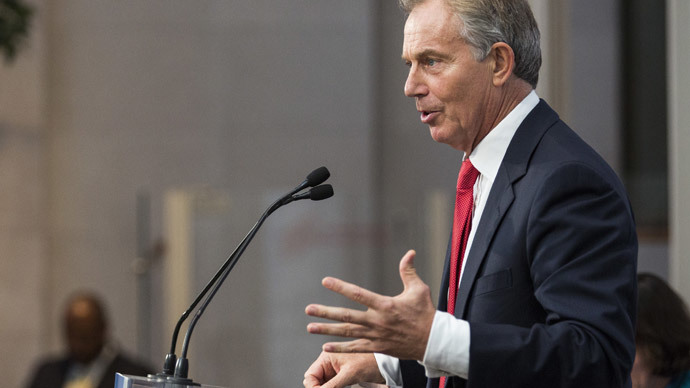 Tony Blair insists he was "misinterpreted" in comments suggesting Labour leader Ed Miliband would lose the 2015 UK general election. He later expressed his full support for Miliband on social media.
The former prime minister was quoted in the Economist as saying Miliband was on course to lose the election, a statement he has since retracted. Blair's office tweeted on December 31 that the former party leader fully supported Miliband and was expecting a Labour victory.
The tweet came less than a day after the interview, in which Blair appeared to claim Miliband could take Labour support back to the 1980s and 90s. This was a period in which the party lost an unprecedented amount of support to the Conservatives.
The Economist quoted Blair as saying May's election could have a "traditional" Conservative result.
He said there was a risk the election could become one in which a "traditional left-wing party competes with a traditional right-wing party, with the traditional result."
Asked whether he meant that would be a Tory victory, Blair replied, "Yes, that is what happens."
The former PM also suggested Miliband had strayed away from the "New Labour" model, which saw Blair win three consecutive general elections.
"I am convinced the Labour Party succeeds best when it is in the centre ground," he said.
"I am still very much New Labour and Ed would not describe himself in that way, so there is obviously a difference there," he added.
He further implied that Miliband was responsible for "alienating" aspects of UK business.
On Tuesday morning, however, Blair tweeted his comments had been "misinterpreted" and came out in support of the party leader.
"My remarks have been misinterpreted, I fully support Ed and my party and expect a Labour victory in the election," he said.
Blair has reportedly hinted at his dissatisfaction with Miliband's leadership in recent months. The Telegraph revealed in October that Blair had told some of his closest political allies he expected Cameron to win the next election.
Miliband has attempted to start the New Year with a positive message to Labour supporters and the electorate in general.
In his Christmas message he said he would implement a new plan to cut the deficit "without threatening our NHS or short-changing our children and their future."
Labour's plans for 2015 and the general election have come under fire, however, with leading educational figures claiming their plan to limit tax breaks on private schools will not halt the "educational apartheid."
Alun Jones, who takes over as president of the Girls' Schools Association (GSA) on January 1, accused Labour of returning to "70s class war." He argued that the ability to buy an expensive home near an excellent school represented greater privilege than a decision to spend vast amounts on private education.