Too busy: Blair tries to dodge IRA inquiry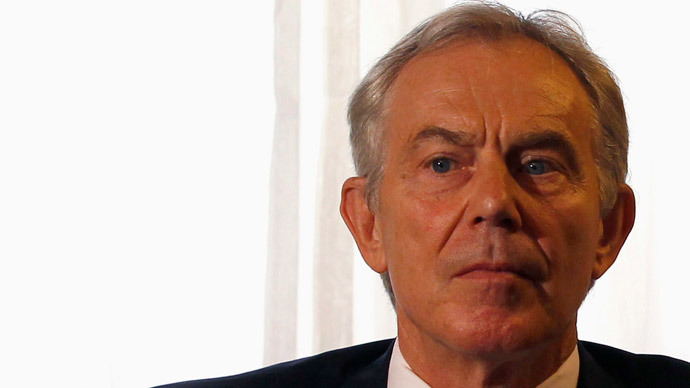 Former Prime Minister Tony Blair claims his commitments as Middle East Envoy make an appearance at the inquiry into controversial Irish Republican Army (IRA) 'comfort letters', "challenging." The letters were distributed under his premiership.
The Northern Ireland Affairs Committee has tried to speak to Blair about any secret deals he may have made with Sinn Fein (Irish republicans) for more than six months.
The 'comfort letters' in question refer to documents reportedly sent to nearly 100 IRA fugitives, in which they were told they would not face prosecution for their paramilitary offences and involvement in almost 300 murder cases.
In correspondence, seen by The Times, Blair claimed his "commitments in the Middle East and elsewhere" meant it would be "challenging" for him to attend the meetings or give evidence about the letters.
He further said he had nothing more to contribute to the inquiry following the evidence he gave in the Hallett Review, an inquiry into the legality of Blair's relationship with Sinn Fein.
The Hallett Review was commissioned in February after the existence of the 'comfort letters' was revealed in the trial of John Downey, who was accused of murdering four soldiers in the Hyde Park bomb attack of 1982.
Downey's trial collapsed after it was found he had received a letter saying he would not face prosecution.
In February, Conservative MP Theresa Villiers said: "Mr Downey was part of an administrative scheme set up by the previous government to deal with so-called 'on-the-runs.'
"[These were] people who believed they might face questioning or arrest in connection with terrorist or other criminal offences committed prior to the 1998 political agreement if they returned to the United Kingdom."
The former PM said a public presentation of his position would not yield any further insights into the case.
"Giving information in public means I would have rather less to say," Blair said.
Lady Justice Hallett and her team of reviewers found the scheme was not unlawful, but rather discovered some letters had been delivered to the wrong parties.
The MPs now taking part in a public inquiry say their investigations would be more open, as there were no transcripts published in the Hallett Review.
Speaking to The Times, Laurence Robertson, Conservative chairman of the Northern Ireland affairs committee, said they were not aware of Blair's testimony in the Hallett Review.
"We don't know what he said to the Hallett inquiry. We haven't had a chance to question him on any of the issues."
A spokeswoman for Blair told The Times: "We are considering all the options proposed by the committee, given that they have refused to accept the offer of written evidence.
"It should be noted that Mr Blair has already given evidence to the government's inquiry led by Lady Justice Hallett and his commitment and respect for the people of Northern Ireland remains undiminished. We will respond to the committee shortly," she added.