Tony Blair, Jack Straw 'should give evidence about torture claims'
Former UK Prime Minister Tony Blair should appear before the parliamentary committee examining if Britain was complicit in the CIA's brutal torture methods, leading Labour politicians say.
The CIA tortured detainees to extract information while Blair was in power. Now members of his own party say he should explain whether or not he had knowledge of this.
Former Home Secretary Alan Johnson and Shadow Home Secretary Yvette Cooper want Blair to be questioned over Britain's role in the barbaric treatment of prisoners by the US, which were revealed in a damning US Senate report last week.
Johnson said the UK must obtain the full report into the CIA's post-9/11 interrogation program, which included waterboarding, walling and rectal feeding, to investigate the UK's alleged involvement.
Johnson told the BBC's Andrew Marr Show that he and ex-Foreign Secretary David Miliband conducted a "thorough investigation" into allegations of torture while they were in government.
"We could find no evidence of British agents being involved," he said. "I'm absolutely convinced that what was redacted, was what the Home Office says they wanted redacted."
Home Secretary Theresa May will be questioned by MPs on Monday afternoon about whether she put pressure on the US Senate committee to redact details of any UK knowledge from their report.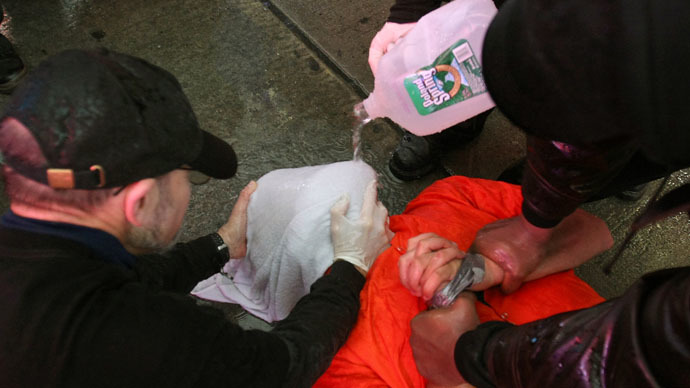 Cooper said Blair and other former ministers had "always said that they would cooperate with all investigations and have said that they would be very keen to do so."
Former Shadow Home Secretary David Davis told Sky News, "One must understand the sheer weight of pressure that comes from the establishment to try and stop this sort of stuff coming out, so I think this needs to be a judicial inquiry."
The government is also facing increasing cross-party pressure for a judicial inquiry into allegations that the UK was complicit in torture carried out by the CIA.
READ MORE:Head of UK torture probe requests CIA data on British role in rendition
This comes as the parliament's Intelligence and Security Committee (ISC) Chairman Sir Malcolm Rifkind insisted he and his committee would look into the allegations "without fear or favor," taking advantage of new freedoms to demand evidence and call witnesses. This will likely include Blair.
Rifkind vowed to get any minister with a "contribution" to give evidence next year, and "if they refuse to do so, that would imply they had something to hide."
MPs said Jack Straw, who was foreign secretary between 2001 and 2006, must also be held to account. Straw was interviewed as a witness in 2012 by investigators looking into allegations against Britain brought by two former Libyan detainees, Al Saadi and Belhadj.
The UK will also to request that the US hand over secret material from the report which had been omitted from the publicly-released summary relating to Britain's role in interrogating terror suspects. Rifkind said it was for the US government to decide whether or not to give the UK the material.
The former British ambassador to Uzbekistan, Craig Murray, who was fired in 2004 over claims of British complicity in torture, said in an opinion piece in the Daily Mail, "We don't need an inquiry, we need a trial. And it should be Tony Blair and Jack Straw in the dock."
READ MORE:'I'd do it again!' Cheney defends CIA torture, calls interrogators heroes
Meanwhile, former US vice president Dick Cheney said those who carried out such torture "should be praised, they should be decorated," he told NBC's 'Meet the Press' program.
"Torture to me is an American citizen on a cell phone making a last call to his four young daughters shortly before he burns to death on the upper levels of the Trade Center in New York City on 9/11," he added.
"There's a notion that there's moral equivalence between what the terrorists did and what we do, and that's absolutely not true. We were very careful to stay short of torture."