Doctors 'traumatized' by health watchdog as suicide rates in profession increase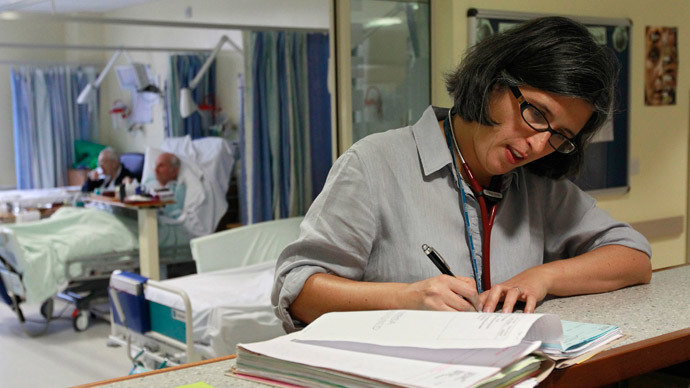 A UK independent report has found over 20 doctors committed suicide between 2005 and 2013. All of them were under investigation for malpractice. Many of those who killed themselves were suffering from alcohol problems or depression.
The review was conducted by the General Medical Council (GMC), which investigated 114 deaths from practitioners, who were under investigation for their fitness to practice. 24 deaths were classified as suicide, while four were categorized as suspected suicide.
However, doctors have hit out at the pressure that the GMC is putting on doctors, with Clare Gerada, former chairwoman of the Royal College of General Practitioners saying, the watchdog is "traumatizing" doctors and may be undermining the safety of patients through its adversarial approach to doctors with health problems."
GMC to introduce a national support service after finding that 28 doctors committed suicide while under investigation pic.twitter.com/aYWPs73B3K

— PulseToday (@pulsetoday) December 19, 2014
READ MORE: NHS must cut £10bn of 'waste' every year – UK health sec
The report admits that doctors endure higher rates of mental health problems including "depression, anxiety, substance misuse and 'burn-out", when compared to other occupational professions. It also says that studies in the UK show that between 10 and 20 percent of doctors suffer from depression at various points in their career.
The report, which was conducted by Sarndrah Horsfall admits that many doctors do not want to disclose illnesses or addictions because of the stigma that is attached to those with problems. The investigation adds that "the GMC needs to create an environment where doctors undergoing a fitness to practice investigation feel they are treated as 'innocent until proven guilty' – as with any judicial process."
report from @gmcuk on doctor-suicides http://t.co/DbiIsGuXxT Interesting reading. Massive increase in numbers (9 in 2013)

— Clare Gerada (@clarercgp) December 19, 2014
A statement from a medical supervisor, who wrote to the GMC after the doctor under their care died, said in the report, 'The present arrangement discourages doctors from coming forward for treatment of mental health issues. The GMC health procedures put doctors under additional strain whilst unwell."
Meanwhile, Gerada, who is now the medical director of the Practitioner Health Program (PHP), which is a service that doctors can contact to seek heath advice, was critical of the GMC, for not giving enough protection to doctors and instead they should be given more support.
READ MORE: Labour party threatens to sue over NHS 'cover up' allegation
Despite the progress that the PHP has made in helping doctors with problems, Gerada believes that more needs to be done and the GMC could be more sympathetic to physicians experiencing problems.
"All the doctors in this room will remember bursting into tears when you were very tired," she said at a conference. "To be sent home and told you have a mental illness doesn't actually help you very much. What you want is a bit of love. I think we have to do something pretty urgently about looking at why the NHS is making people sick and why we have an increased number of suspensions, mental illness in doctors, and bullying."
Following recommendations we're reviewing how we treat doctors with serious health concerns: http://t.co/y4rN16R30Z

— GMC (@gmcuk) December 19, 2014
The independent report adds that doctors who have been referred to the GMC should be considered to be vulnerable and be offered support. It also adds that due to the stressful nature of the investigation process doctors could develop mental health problems, or addictions to harmful substances.
A previous report by the GMC report in November 2012 found that 98 percent of 1,384 doctors who had underlying health concerns over the past five years were diagnosed with alcohol and substance abuse, or mental health issues. However, there was no evidence that ill doctors have harmed patients in their care, the study argued it is likely that they provide a "less good service."
READ MORE: Workaholics: Mentally ill UK doctors forgo treatment
The PHP, found that out of 554 referrals, 28 percent were related to substance addiction and 85 percent were connected to mental health issues.
Dr. Max Henderson from King's College London's Institute for Psychiatry believes that these figures are the sign of a much more widespread problem. A recent study carried out by Dr. Henderson found that doctors are often shamed out of saying they are sick or need extra time off.
"Doctors feel ashamed of being unwell and they don't deal with illness well, they find it hard to exchange the doctor role for the patient role," Dr. Henderson explained to RT.
You can share this story on social media: