Labour party threatens to sue over NHS 'cover up' allegation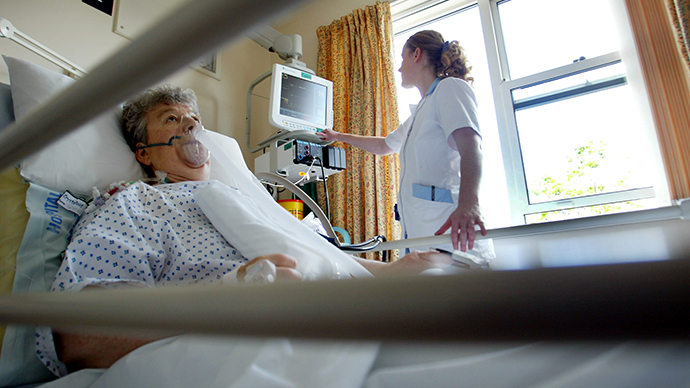 The UK's Labour Party has threatened to sue over claims one of its members orchestrated a cover up of NHS failures. Shadow Health Secretary Andy Burnham has been accused of hiding reports of appalling standards of hygiene and unusually high death rates.
The UK Secretary of Health, Jeremy Hunt, has been threatened with a lawsuit after he alleged the NHS ordered a cover up of a hospital scandal under the Labour government in 2009.

The accusations pertain to the Shadow Health Secretary, Andy Burnham, who supposedly stifled reports of appalling hygiene standards and unusually high death rates in NHS hospitals.

Government emails, released by the Care Quality Commission (CQC) watchdog on Friday showed that the Labour government ordered that reports of abnormally high death rates be withheld from the press.

Current Secretary of Health, Jeremy Hunt jumped on the emails, branding them "overwhelming evidence" that Labour was behind a cover up. He alleged it was part of a plan to "tone down and cover up NHS failure for political purposes."

Shocking revelations on @andyburnhammp's attempts to cover-up failing hospitals. We're legislating to make sure this can never happen again.

— Jeremy Hunt (@Jeremy_Hunt) October 4, 2013
Shadow Health Secretary Burnham categorically denied the claims, mounting a heated defense and calling for an apology for the allegations. He said the accusations were unsubstantiated and slammed them as a smear campaign by the Conservatives against their rival party.

"It is high time he (Mr Hunt) focused on his real job and the unfolding A&E crisis instead of orchestrating a smear campaign without evidence," a party spokesman said.

The UK's state healthcare has been criticized for multiple reports of government cover ups of slipping. Earlier this year an investigation into some 1,000 'avoidable' deaths in NHS hospitals in Stafford, central England, found that "corporate self-interest and cost-control" were to blame for the wider-scale NHS problems that allowed the deaths to happen.

Furthermore, a number of leaked letters revealed that doctors in Lincolnshire had been ignored when they criticized falling standards and malpractice. The number of 'excess' deaths at Lincolnshire Hospital was 677 between 2009 and 2012, according to David Bowles, the former chair of United Lincolnshire Hospitals Trust. Bowles said he quit over such dangerous target-setting.

A study in May carried out by the British Medical Journal also found that patients who had surgery in NHS hospitals at the end of the working week were more likely to die. Investigators looked at a subject group of over 4 million participants and discovered that patients undergoing an operation on Friday were 4 percent more likely to die than those with surgery at the beginning of the week.

"Death rates were lowest for patients having operations on Monday, increasing by around 10 percent for each subsequent day of the week," stated the study.

In spite of numerous reports of falling standards and negligence, the UK government has implemented large cuts as part of sweeping austerity measures. Over the last three months, the NHS has laid off over 21,000 workers according to statistics by the Trade Union Congress.

You can share this story on social media: