'Shocking incompetence': UK health officials threw away £74m of bird flu 'wonder-drug'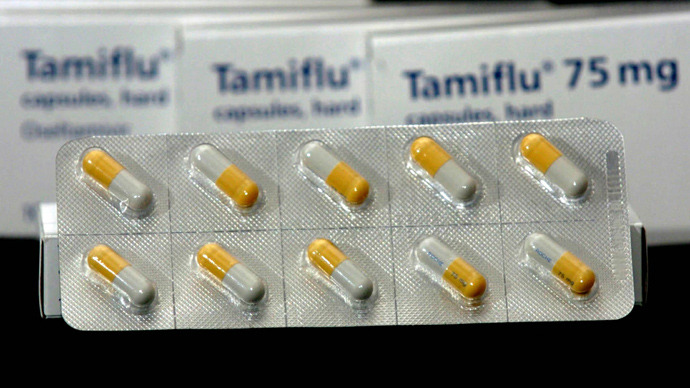 UK's Department of Health threw away £74m worth of Tamiflu, the antiviral drug, before its expiry date, due to unsafe storage procedures. In total the country has spent £600 million since 2006 on drugs to fight a flu pandemic that has not materialized.
The figures, revealed by the National Audit Office (NAO), demonstrate a "shocking example of incompetence", according to Public Accounts committee chairwoman Margaret Hodge.
Prompted by several public panics over possible avian flu pandemics in the mid-2000s, the UK government decided to create a national stockpile of Tamiflu (produced by Swiss company Roche) and Relenza (made by London-based GSK) – two relatively new and supposedly revolutionary drugs that neutralized the flu virus.
Between 2006 and 2013 40 million units of Tamiflu alone were purchased. A quarter of those had to be written off.
During the pandemic of swine flu (which turned out to be less deadly than the common variant) in 2009 and 2010 the Department of Health panic-bought up huge emergency supplies as governments competed with each other to secure the dwindling supply.
It did not possess the logistical and storage capacities, and distributed about 6.5 million units to the NHS. When the demand failed to appear, these had to be written off, as no one could guarantee that they had been preserved in appropriate conditions.
"There is simply no excuse for this waste," Hodge told parliament.
More importantly, there are growing questions about the efficacy of the thirty million of the units that were used.
"Although Tamiflu speeds up recovery times, experts do not agree over its ability to reduce complications and hospitalizations," said Hodge.
Roche had persistently refused to release data on more than a fraction of (successful) clinical trials of Tamiflu (generic name oseltamivir), which has been on the market since 2002, until leading independent medical research independent research group Cochrane Collaboration started encouraging governments to sue the Swiss company. Roche finally relented, and promised to hand its research data to Cochrane last month.
The Department of Health promised to "consider the recommendations of the NAO" report, but stood by its anti-flu policies.
"The UK is recognized by the World Health Organization as being one of the best prepared in the world for a potential flu pandemic," said a statement.

You can share this story on social media: