New bird flu strain: Genuine threat or fear mongering?
China, Japan and Vietnam are on alert not to let the deadly new bird flu strain spread. The last decade has however shown the information about a virus has always spread much faster than the virus itself.
The new strain of bird flu, labeled H7N9, has already claimed five lives. Four people have died in the county's financial hub of Shanghai, while another person died on Wednesday in the neighboring province of Zhejiang, after being confirmed infected on Thursday.

Scientists studying samples of the virus taken from a Chinese man who died in hospital in March say this strain of the disease is harder to track than the now more common H5N1.
The scientists from research institutes around the world warned on Wednesday that this new virus can generate no noticeable symptoms in birds while seriously harming humans.
"In that sense, if this continues to spread throughout China and beyond China, it would be an even bigger problem than with H5N1 in some sense, because with H5N1 you can see evidence of poultry dying, but here you can see this would be more or less a silent virus in poultry species that will occasionally infect humans," AP quoted the University of Hong Kong microbiologist Malik Peiris.
The Chinese Health Ministry announced it's mobilizing to combat the virus. Passengers flying to and from Hong Kong are being called to report on their condition if feeling unwell. Vietnam banned poultry imports from China in an effort to prevent the deadly virus from getting in.
Scientists have so far said there are no signs of transmission of the H7N9 virus between any of the victims or people they have come into close contact with.
However, they are already looking into the possibility of a pandemic, saying the virus may mutate in future and become easier to spread among humans.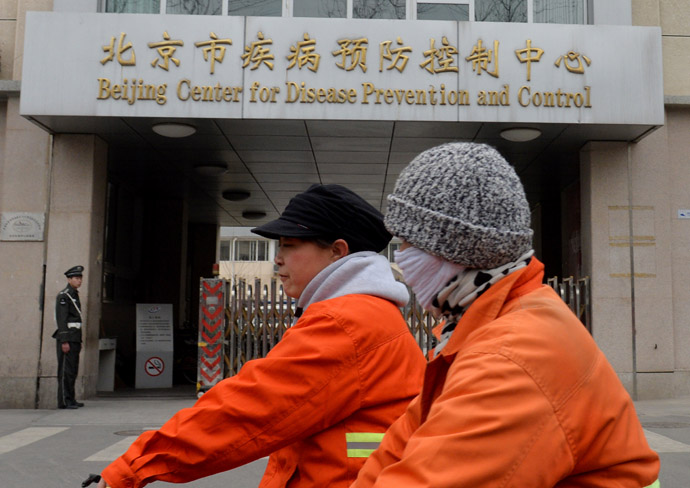 However, statistics from World Health Organization shows the term "pandemic" has so far been hardly applicable to bird flu or swine flu, which together are much less deadly than common seasonal flu.
Bird flu has claimed 371 lives since 2003. The 2009 swine flu outbreak killed much more - 18,138. In the meantime, the common flu, which is hardly ever in the news, kills 250,000-500,000 every year. 
This huge difference in numbers of casualties between exotic kind of flu and the seasonal one has caused many to believe that this is being orchestrated by the pharmaceutical companies.
In 2010, the British medical journal and the Daily mail published a list of 20 people who worked as advisors for WHO and the same time they had financial ties with pharmaceutical companies.
That same year the World Health Organization came under scrutiny from the Council of Europe, which was looking into whether the international body had colluded with drug companies to exaggerate the threat from swine flu.
An estimated US$18 billion was spent worldwide on vaccinations and drugs to fight it.
Swiss-produced Tamiflu was pronounced the best remedy for swine flu back when the outbreak of the disease started. Later, scientists started doubting the drug's effectiveness.
"We have evidence that it is less effective than was previously thought, that it doesn't seem to be clearly effective in reducing complications in healthy adults but it also shows that the data available for evaluating drugs generally is inadequate, because drug companies hold on to data which should be more publicly available," said Dr. Fiona Godlee, editor-in-chief of the British Medical Journal in an interview with RT.
RT's Aleksey Yaroshevsky was in Ukraine in 2009 and remembers how swine flu hysteria led to shelves at local pharmacies being emptied "by the people panicking, rushing there to buy medication." Further speaking of the scale of the panic he recalls an episode "when the Prime Minister of Ukraine back then, Yulia Tymoshenko, arrived personally at the airport to meet huge shipment of the Tamiflu drug."
Eventually, there were cases when Tamiflu was actually incinerated because there was too much of it.
"I think they are trying to unnecessarily feed the sense of panic in the population. People demand Tamiflu from their doctors... Pharmaceutical industry has been having a field day of profits after this swine flu scare," analyst William Engdahl told RT.
As for the new H7N9 bird flu strain, there are so far no vaccines against it, but scientists already say that existing anti-flu drugs are likely to do the job.
This means the demand for Tamiflu or a similar drug may well be resurrected soon.
You can share this story on social media: