Farage defends UKIP activist's racist, homophobic comments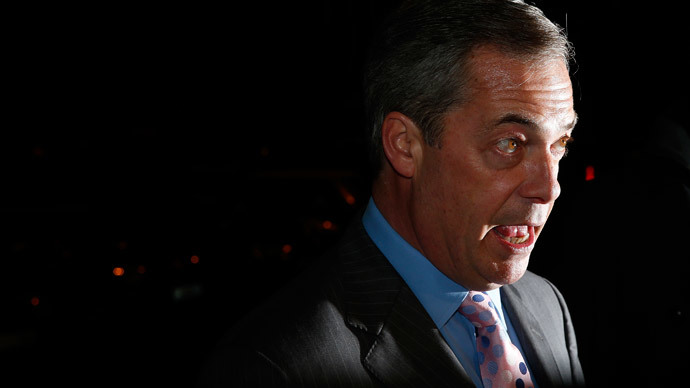 Once again, UKIP leader Nigel Farage is unable to make it through a week without a slip of the tongue landing him in an unfortunate media quagmire. This time he has been attacked for defending a former party activist's racist and homophobic slurs.
On Friday morning, while speaking on his weekly phone-in with LBC Radio, Farage defended comments made by former UKIP activist Kerry Smith who reportedly called gay party members "disgusting poofters" and labelled a woman with a Chinese name a "chinky bird."
Farage said he felt the comments should not be construed as offensive if they had been spoken without malice, and his reference to the Chinese woman was not dissimilar to the way you might refer to a Chinese take-away.
"We can pretend if you like," he said to the presenter. "If you and your mates are going out for a Chinese, what do you say you're going for?"
"A lot of people would use the word 'chinky.'"
He did add, however, that it was not a word he would use.
"I don't think I've ever used that word," he said.
READ MORE:Farage claims: 'I'm the poorest man in politics'
Smith stood down as the parliamentary candidate for South Basildon and East Thurrock saying he was "sick of internal backstabbers," and will now take up a position on the Essex County Council.
During the radio program, Farage further insinuated that people from council estates were naturally prone to racial slurs, citing their background as the main cause for the insensitivity.
He called Smith a "rough diamond" who "speaks in a way that a lot of people from that school and background do," citing his "council house" upbringing as the root of his casual racism.
READ MORE:Farage exposed after calling public breastfeeding 'ostentatious'
Later in the show, when a caller alleged UKIP members were resigning daily "over racism, homophobia, sexism and the like," Farage claimed the press were unfairly targeting his party.
He called it a "media witch hunt" and denied his party members were resigning "every other day."
"I don't think I read that every day! We've had a case of Kerry Smith who, yes, he was 'loutish' in what he said and is not fit to be a parliamentary candidate, but I don't think there was anything malicious or evil about what he was trying to do," he added.
Farage recently hit headlines with the controversial claim he is the "poorest man in politics" and after calling breastfeeding mothers "ostentatious."
You can share this story on social media: